I have had a Cavalier for a month and he is 3 1/2 months old. I feel like I'm not making any progress with his house training. I am using a crate, and I'm home most of the time. So, he is being taken out every hour.
He holds it all night in the crate, but is still having many accidents in the house during the day. We'll be out for 20 minutes or more, come in, and within 5 minutes he poops. I feel like he's holding it for when he comes in. Is this normal? Any advice would be great.
Add your voice! Click below to answer. ThriftyFun is powered by your wisdom!

January 3, 2010
0

found this helpful
Hi Patricia: The first thing I would look at is his feeding schedule. I'm assuming by now, you are only feeding twice a day. Keep treats to a minimum while you are trying to potty train. We like to use Solid Gold's jerky treat and break them up into tiny tasty bits for rewards so that it doesn't cause the urge to poop. You will need to patient about waiting the dog out when you do take him out for his business. Crowding him or stressing him by hovering over him may cause enough stress to cause him to hold it until he is inside.
My guess is that he will sneak off to poop in the house. While not in the crate, limit his area to one carpetless room like the kitchen. Once you catch him pooping outside - throw a puppy party! Lots of praise ,a tasty treat then back to the warm house. All this will help you set him up to suceed. :)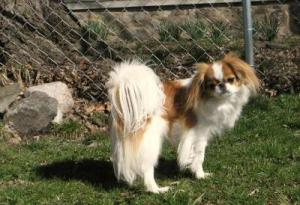 January 4, 2010
0

found this helpful
Patricia, I would take the dog outside to poop, just like you've been doing, and wait as long as you think appropriate to give him/her enough time to do the job. I think you indicated that you were waiting 25 minutes, and I think that's appropriate. What I would do is change what you do when you go inside. If the dog had been in the crate enough time that the dog should have to poop but doesn't poop when you go outside, then when you return inside, I'd put the dog right back in the crate.
Few dogs will poop in their crate, so when you try it going outside again in an hour, there should be even more of an urge for the dog to poop. Doing it this way may seem like the dog may spend too much time in the crate, but it is only temporary. Once you have a success, you can congratulate the dog and give all kinds of compliments (maybe even a treat). The dog will get the picture of where you want the pooping thing to happen and will take less and less time to accomplish the task.
It will be worth your time to do this because it will make your future with your dog so much more rewarding because more of your time can be spent enjoying your dog rather than disciplining and waiting for him/her to poop. Dogs usually want to please, and I think your dog just doesn't know yet that pooping outside will please you. Once the message is understood by the dog, you should have an easier time. Good luck. Dogs are wonderful!

Myrna
Bronze Feedback Medal for All Time! 168 Feedbacks
January 4, 2010
0

found this helpful
My dogs are asked if they want to "go out and potty". They get excited and are then taken out to do their business. They don't like doing both of their businesses in the same location. So, when they walk away from the wet place, they want to wander elsewhere to complete elimination; usually near a shrub or tree base.
Watch your dog while inside and see if it paces around the room just before it drops feces on the floor. At that point take the dog out again. My dog usually drops feces in more than one outdoor spot before finishing. I have cocker spaniels and the male was more stubborn than the female about training. Just be consistent like you have been and it will eventually pay off.

January 5, 2010
0

found this helpful
Thanks so much for the advice on potty training our Cavalier puppy. We are actually starting to make some progress. Can I ask another question? How often should I (or can I) bathe our Cavalier?
Hope I can be of help in the future, first I have to figure all of this out :) Patricia

vicki hood
Bronze Feedback Medal for All Time! 102 Feedbacks
January 7, 2010
0

found this helpful
Exercise is the only answer. Crate is great--potty with exercise.
Add your voice! Click below to answer. ThriftyFun is powered by your wisdom!
I have 3 month old Red/Blue Nose Pit Bull (Honey). She pees outside, but will not poop. When I take her outside and stand or walk with her, she only pees. When we come back into the house after a while, she goes right to her favorite place in the house and poops. Please help.
Nichole from Benicia, CA

Answers:
Puppy Only Poops Inside
Use a crate to train her. You won't regret it. She will not poop in her crate, trust me. Eventually she will get the idea. Good luck. (10/17/2008)

By Debbie
Puppy Only Poops Inside
We thought we had the same problem, until we realized that our puppy takes a bit longer to "go number 2". I suggest you stay outside with your puppy until she poops, as she is actively eliminating (as the dog trainers like to call pooping) say a code word like "do your business" or "doody-doody".

The same with urinating, we use "wiz, wiz". It means we can encourage our puppy to go outside on rainy, stormy, and cold days. Also, make sure you use a good cleaner inside so she doesn't smell the area and think it's her poopy spot. I've heard training pads work well, too. Put the training pad in her spot and slowly move it outdoors. Hope that helps. (10/17/2008)
By Blaire
Puppy Only Poops Inside
Just from experience remove the "inside poop" and place it outside where you want puppy to poop. Let her smell and see it and she will eventually get the hint. (10/17/2008)

By JACKI
Puppy Only Poops Inside
Every puppy can have different issues. As one person stated, taking care of #2 can take longer. Also, if you allow them to keep wandering, they can get easily distracted. Keep the "walk" to a limited area. If the dog is a submissive dog, they may be less likely to take care of business where there are other dog's scents.

Crate training definitely can help. Also, schedule the dog to go out regularly (when she first gets up, after she eats, etc.). If she goes outside, she shouldn't have to go inside. And of course, praise her when she does go outside. Lastly, work on her letting you know when she does need to go. Use a phrase when you take her outside.
We use "hurry ups". When my dog "nudges" me, I can ask if he needs to go "hurry ups" and I can get a valid answer. You might also want to tie a bell on a rope by the door you take her out and every time you take her out, ring the bell and use your phrase. She should learn quickly that ringing the bell gets her to go outside. Good luck. (10/19/2008)

By Erika
Puppy Only Poops Inside
Use an enzymatic cleaner to remove the scent of her inside poops. She may be looking for signals as to the right place to poop (i.e. where others have pooped).
(10/20/2008)

By Guest
Puppy Only Poops Inside
Try removing the scent with Arm and Hammer Odor Eliminator. We get it for $2.00 at Dollar General. (10/20/2008)

By Holly
Puppy Only Poops Inside
Yep, I had one pup that did that.
Spray favorite area with white vinegar.
Put the poop outside and praise it.
Tell pup to "potty outside" in sing-song cheerful voice and when he does make a big happy deal giving lots of praise.
Take him out 30-45 minutes after feeding.
Walk around and if still no poop bring inside and crate him for one hour.
Try again you should then get poop.
Praise, praise, and praise some more. This worked for our sweet adorable stubborn Yorkie.
Good luck. (10/23/2008)