Her name is Where's the Weasel? LOL! She is 1 and a half years old. She is a Marshall Farms Ferret we bought at Village Pets.
When President Obama sent out the stimulus checks, then my husband went out and bought him a ferret. I requested a ferret cage on freecycle.org and got one. We fixed it up really nice, and voila! A perfect little house for the ferret, although he is out about 5 times a day.
He likes to do stunts to make people laugh, laugh back at people who laugh at it, and also eat its furrotone supplement. This seems to be its favorite time of the day when nothing else matters. LOL We wanted to name her Sugar but she never responded to that. Once we wanted to get her attention and when we said "Where's the Weasel?" She came running out from under the bed. The name has been her own since that day.
By Robyn Fed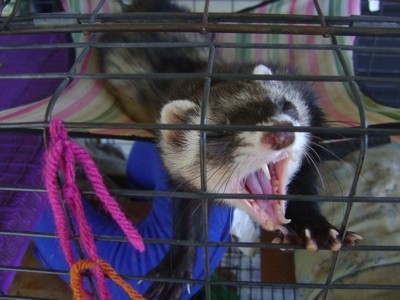 Add your voice! Click below to comment. ThriftyFun is powered by your wisdom!
July 13, 2010
0

found this helpful
What an adorable little stimulus benefit!
I was thinking that she would also probably respond to "Where's Our Weasel" and then you could nickname her "WOW", Just a thought.
Thanks for sharing.
July 14, 2010
0

found this helpful
Great little story, and so nice of you to share "Where's The Weasel" with us. That's quite a name for such a little fur baby. LOL
Pookarina
July 15, 2010
0

found this helpful
I am thinking of giving her the WOW nickname that is adorable! Love it and I love sharing photos of my animals....just this morning I wish I had got a perfect shot of Tiger reaching up for me to pick him up. LOL
Blessings,
Robyn
Add your voice! Click below to comment. ThriftyFun is powered by your wisdom!
Tinker and Where's the Weasel (WTW) are 1 year and 2 year old ferrets. Weasel was adopted from a pet store. Stinker (or Tinker) is a rescue. Someone else could not meet her needs very well, since ferrets require a lot of care and cleaning!
Ferrets are just like kittens that never grow up. They run through the house tumbling and jumping and hiding various things. We have to keep our shoes up and anything in crinkly plastic, since both of them have their stashes throughout the house. We never leave shoes lying on the floor when they are having their play times.
They are so happy together. We did not think they would get along because of the difference in age, but Where's the Weasel surprised us. They can be seen cuddling in their hammock every day, and are so happy together!
By Robyn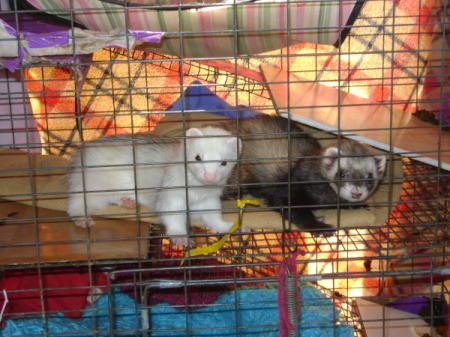 Comments
June 10, 2011
0

found this helpful
These guys are so cute! I hope things continue to work out for all of you.
June 13, 2011
0

found this helpful
Too cute! I got my little 'Panda' about 6mos ago and now I can't imagine life without her! She goes with me to the park on walks (in my arms because she is too petite for any halters) and she runs around our loft area.
She gives lots of kisses too. She's quite clever too! A friend of mine years ago had 6 of them and I could never hold any of them because they were biters so I guess I had that stuck in my mind. Then I met Panda and she is just the sweetest thing. Love your white one!