joan pecsek
Bronze Request Medal for All Time! 66 Requests
October 8, 2007
0

found this helpful
I would not give the cat back to the neighbors. After one pet dies from neglect they should have learned but 4? Animal shelters are overwhelmed with kittens, his chance of being adopted is small, he will probably be put down. Since you seem to be willing to keep him, just tell the neighbors(if anybody asks, no need to volunteer information) that the cat got away from you.
Then keep it in the house. Yes, it's a lie but sometimes truth needs to be tempered with compassion as well as common sense. Good luck whatever you decide to do.

October 8, 2007
0

found this helpful
Hi Joy,
You're right; you musn't give this kitten back to the neighbor. Just the fact that he's covered in fleas tells me he is not cared for. Keep him in the house, speak to the S.P.C.A., explain your situation and perhaps they have an idea how to help. Perhaps you can post an adoption ad at their shelter. Thank you for being the great person you are to take a needy one in. Peace, Sharon
By U*u*U (Guest Post)
October 10, 2007
0

found this helpful
I agree that sometimes, a hero must step in to protect the vulnerable, but in this case, I don't suggest that you keep the kitten. It can start a "neighbor war" later if it is seen, and it WILL be seen eventually. I'd quietly try to find it a good home AWAY from the immediate neighborhood (after a good de-fleaing).
Once you find it a good safe home, you can truthfully say (only if asked) that it "got away" from you. I know this is going to be an unpopular thought, but a great way to place a kitten is to simply go to a mall entrance and hold it in your arms petting it. chances are that SOMEONE (adult) will fall in love.

October 10, 2007
0

found this helpful
If the neighbours haven't been out scouring the neighbourhood and putting up posters or contacting the SPCA regularly looking for it, chances are they won't care one way or the other. Keeping the little kitty in is safest for his health and well-being anyway. If they haven't knocked on your door to ask if you've seen by now, they aren't going to, I figure and if they do, say you saw it, but couldn't catch so you have no idea where it is now.
Does the kitten have distinctive markings? If not, then if and when they notice you have a kitten that looks like theirs, you can just say that they must be mistaken.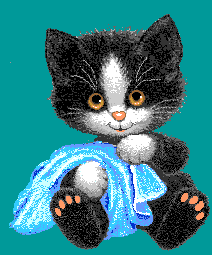 sandy
Bronze Request Medal for All Time! 87 Requests
October 10, 2007
0

found this helpful
I can't help but say they are NOT decent people if they have purposely let any animals die.

Janice C.
Silver Feedback Medal for All Time! 418 Feedbacks
October 11, 2007
0

found this helpful
Thank you for your compassion. Animal abuse or neglect is a crime, and you don't want that to happen again. I would clean up kitty, make him pretty, and find another home for him (not a pet shelter where his chances of survival may be iffy).
I think that even if you keep him inside all the time, your neighbors would eventually see him. If they ask about the cat, I agree you could tell them you rescued him from the tree and then he got away from you.
By Susie from Buckhead, Ga (Guest Post)
October 11, 2007
0

found this helpful
Keep that kitten and give him the love he needs. I love my babies. We have a black Lab now. I am usually a cat person. Our baby Sassy, rules the house. I try not to have more than one pet at a time, but if I had happened along on a poor defenseless baby, like you have, I would keep him. Don't worry about the neighbors. If you see any more animals at their house, call the authorities.
By kay (Guest Post)
October 11, 2007
0

found this helpful
I agree with the others, keep the kitty. Get him to a vet to make sure you get rid of the fleas and see if he has worms or anything else he could have that may have an impact on his health and your family! Thanks for caring!

Beth
Silver Feedback Medal for All Time! 407 Feedbacks
October 11, 2007
0

found this helpful
You should also document the condition of the kitten with pictures and the vet's records.

Holly
Silver Post Medal for All Time! 364 Posts
October 11, 2007
0

found this helpful
They're not going to come looking for the kitten unless it was promised to one of their children and the kid wants it back. It's obvious they couldn't care less.
If you keep it, the neighbors will see it. But will they care to recognize it?
By all means, take those pics and document the poor shape the kitten is in.
The child at the house could possibly be mistaken as to whom the kitty belongs. For all you know this is simply a stray. To a little kid, all white (or tiger striped, ...) kitties look the same.