Tips for growing sunflowers from the ThriftyFun community.
Basics For Sunflowers
Here are some basics on growing sunflowers:
Plant them in full sun.

Plant seeds 1 inch deep and 6 inches apart (or according to package directions). Water well after planting.

Seedlings usually germinate within a week or two and take 80-90 days to reach maturity.

For taller plants that flower earlier, start them in 4 inch peat pots indoors.

Seedlings are usually thinned to 12-18 inches apart, but can be plants more closely together in containers.

Russian Giants, Kong, and Mammoth varieties grow as tall as 15 feet and have flower heads as large as 20" in diameter. You'll need a pot at least 15" inches deep and 15" in diameter (or larger) to grow these giants.

Sunflower roots grow deep and spread wide so make sure you use a large enough container.

Tall plants may need staking.

Keep the soil in your containers moist and fertilize them with a 1/2 strength organic liquid fertilizer every two weeks.

Sunflowers need lots of water (plants 6 feet tall can consume 8 gallons per week), but over-watering them can cause deformed seed heads. Use well-drained soil and keep the soil in your containers evenly moist. Water seedling deeply once per week for the first month so they develop deep roots. After that, water your sunflowers lightly every day.
Good Luck!
Ellen
Soak The Seeds
Try soaking the sunflower seeds in warm water the night before you plant them.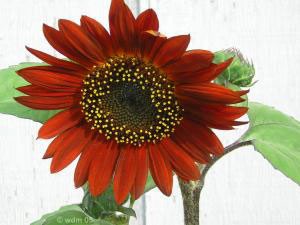 Remove Wilting Foilage
It helps also to take off any foliage that is wilting or being eaten by bugs. Of course deadhead those plants to get blooms throughout fall!
By ~ Wendola ~
Coffee Grounds
My nanny used to fertilize hers with some old coffee grounds once every couple of weeks and they grew and bloomed beautifully! Just sprinkle the grounds around the base of the plant and water.
By Michelle
Sunflowers Need...
Lots of sunshine and water!
Grow From Seed
Sunflower are super easy to grow. In Canada, it is cold most of the year, I plant the sunflower seeds in my garden the end of May. By the end of August, my heads are mature and ready for drying, for eating, or feeding the birds. I would not buy a mature plant. The beautiful yellow flower only lasts a few days.
By Maggie
Grow In Potting Soil
I have grown sunflowers since I was young. I am wanting them to grow big and use them in senior pictures. I started them in regular dirt and one in potting soil. The ones in the dirt were eaten, I think by something, and the one in the potting soil is amazing. Since then, I have planted 11 in cups with potting mix and potting soil. When you plant them in this, make sure you make a hole in the bottom or near the bottom. They look amazing, I just planted them 5 days ago and they are coming along great.
By Sunflower Queen
Balcony Tips
Sunflower seeds aren't that costly. I'd go to a garden section of a hardware store and buy them. If you are going to grow them in a planter on the balcony, first invest in a heavy planter to put them in. They'll grow tall and would be top heavy. Nice soil, sun, some water and patience, and voila! Good luck!
By badwater