I felt challenged by all the news I've read where squirrels defeated imaginative defenses invented to keep them from raiding bird feeders. So I put my construction experience to work.
Total bill for parts was about $25.
For the mast I bought schedule 40 1-1/2 inch diameter PVC pipe. Schedule 40 is one of the top quality grades of PVC - very hard and dense. Hard enough to prevent squirrel claws from gaining traction.
My purchase at Lowe's consisted of:
1 10 foot length pipe, cut into 4 and 6 foot pieces
1 pre-cut 2 foot piece of pipe (I have a small car.)
1 male/female threaded connector set
1 male threaded connector
cast-iron flange for the top to connect the anchor support arm to hold the feeder pan.
I already had the appropriate adhesive and cleanser for the pipe joints. I used a scrap piece of 2x2 softwood lumber for the support arm.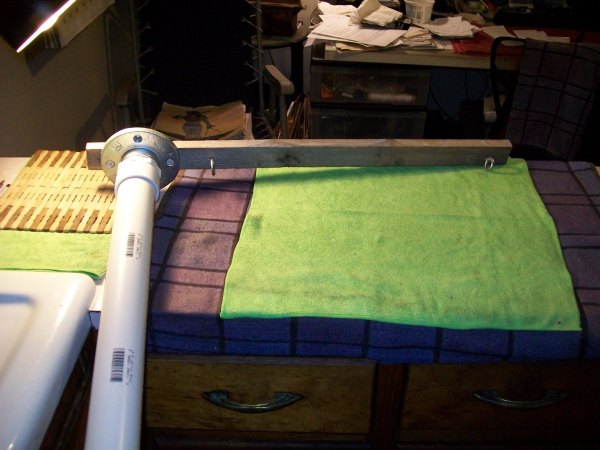 I used 1/16th inch steel cable and ferrules to make loops for easy disconnections for when it's zero degrees outside when pan has to be cleaned and such other nasty winter conditions. I ran the cable through two screw-eyes to distance the pan from the mast. I used cheap carabiners from Walmart to connect the parts.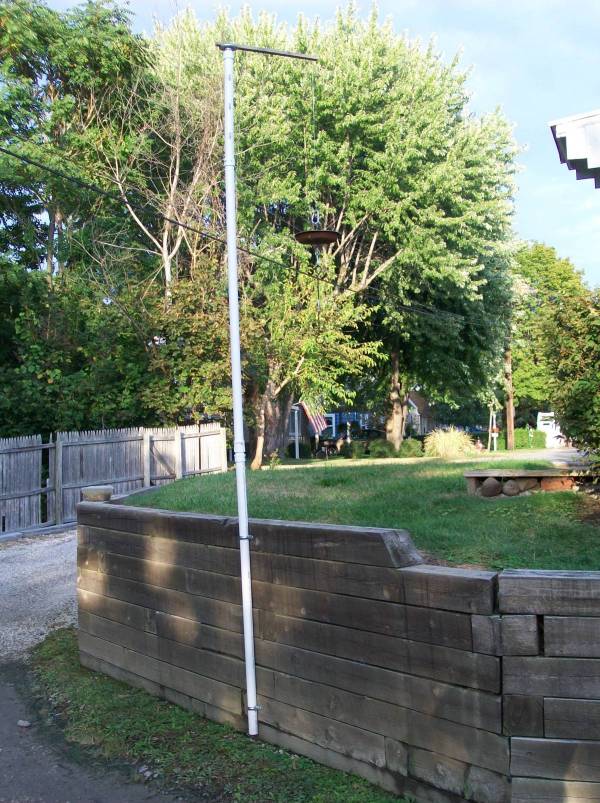 The project was built with only basic tools - none expensive or exotic, believe me.
Only one (that I know of) extremely smart squirrel ever made it all the way to the top -- and he never got close to the seed pan. I know he didn't use his claws to get up there -- I like to think he "hugged" his way up -- like I used to 'shinny' up trees. He looked a bit foolish and ungraceful when I chased him away. After all, I had another feeder nearby just for squirrels. But they like sunflower seeds just as much as the birds do.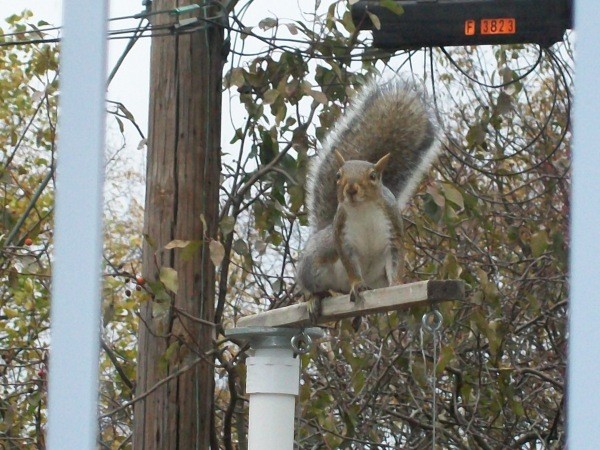 I am fortunate to have a handy timber retaining wall to anchor the mast to. The seed pan ended up suspended less than 8 feet from my living room window so I got lots of picture opportunities - not to mention all the pleasure watching the different breeds feeding so close to my window.
By Chuck from Canton, OH