May 28, 2009
0

found this helpful
I raised a kitten that does not meow because her vocal cords never developed. Do you meow at her or not? My cat and I chat all the time. Maybe if you talk to your cat in meows it will help or take the cat to the vet and get there opinion.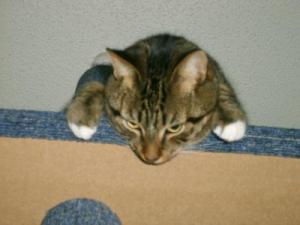 May 12, 2017
0

found this helpful
It's that my kitten can't meow. He's happy. His nose is wet. He meowed 4 times in 7 months. He's well taken care for. ???????.
May 28, 2009
1

found this helpful
Don't worry at all. Many kittens that young make that squeak noise instead of meowing until they get to be sometimes 3-4 months old. Once he discovers his meow you'll wish he'd go back to squeaking!
It's rare that one grows up not meowing, and if it does there is an abnormality in its voicebox. As long as it is an indoor cat there's no problem. But I'd venture to say yours will develop his voice in another month or so.
October 5, 2019
0

found this helpful
My cat is now 8 months old and still just squeaks at times she has never meowed so far I was wondering why? And will she ever start meowing or is something wrong
May 28, 2009
0

found this helpful
We got our kitty when he was about 8-12 weeks old. He is now over half a year old and we always laugh because his meow is soooo tiny it's almost inaudible. So no it's probably not abnormal. He is a total sweetie and very healthy. Our older kitty he has a louder meow so he makes up for the little one.
May 29, 2009
0

found this helpful
Maine Coon Cats and mixes have a squeak and not a meow they are so adorable!
June 2, 2009
0

found this helpful
Our cat didn't meow for about 4 years, she too was an orphan. After that we couldn't shut her up, she was a real talker.
June 2, 2009
0

found this helpful
We have a beautiful white cat that has a very low meow. We always tell people his meow in on mute. Nothing wrong with cats like this.
July 9, 2019
0

found this helpful
I also have a 5 week old white kitty he to has a very very low meow, Oh but can he eat and poop all day and his anal is an outty
June 2, 2009
0

found this helpful
It is normal. Kittens have a squeak, which in time turns into a meow.
Also, they're a bit like babies, they will cry when they need something. Good Luck
June 2, 2009
0

found this helpful
Absolutely normal! Tiny kittens sort of make "eep" sounds.
June 2, 2009
0

found this helpful
I've had several kittens over the years who didn't meow. A couple of them were foundlings who had gotten parasites in their throat area. Others had nothing wrong, just weren't very vocal. none of them had any problems later in life.
June 2, 2009
0

found this helpful
Our male tabby squeaked for a couple of years; he no longer squeaks, but has a very soft meow. I've had cats all my life, and he's the first squeaker.
June 2, 2009
0

found this helpful
I had a kitten once. My husband worked at a grocery store & someone had thrown a Himalayan kitten in the trash (not show quality), he saved it from being crushed, it was so tiny.
Well, she couldn't meow, only squeaks, sweet. If it has this type of cat in it's genes, then it is normal. How is it otherwise? Does it seem healthy? That's all that matters, besides a chatty cat can be irritating.
June 2, 2009
0

found this helpful
I have several cats and they all sound different. One very large cat sounds like a little bird! As long as your kitten is healthy, don't worry about the squeak. It is part of their personality.
February 6, 2010
0

found this helpful
Molly was two days old when we found her. She was squeaking then, and still does. We are nuts about her and love it when she squeaks. At first if she got stuck in the basement she would just wait for someone to open the door, but now she lets us know one way or another.
She's seven years old now and the perfect companion. She manages to get me out of bed with her squeaking, has quite a vocabulary actually. Still no meow though. Here's a picture of her at about two weeks.