February 12, 2007
0

found this helpful
Odds are unlikely, but possible. I have know many people who have been licked and lived to tell about it. If your worried gargle with some mouth wash, brush really well, and If you start feeling ill or get a fever go to the doc.
February 12, 2007
0

found this helpful
Most diseases are not tranmittable from animal to human. If your dog or cat has rabies or e coli, I would hope that you knew they were sick and would seek medical attention for them as well as yourself. This post particularly worries me as the poster is in my area. Does this sweet angel in the photo have some illness I should be aware of? Is cuteness contagious?
February 14, 2007
0

found this helpful
E coli is a bacteria found in the fecal matter of all animals including humans. It can cause health problems.
More info here
Make sure your dog is wormed regularly to prevent yourself or anyone else catching them . You can not catch heartworm from your dog. Most types of worms are rarely fatal but can cause pain, bloating, bloody diarrhea, increased or reduced appetite and so the list goes on.
The chances of catching something are small, however just follow safe hygiene practices and make sure all members or the family (including the furry ones) are wormed at the same time.
By Rosa (Guest Post)
February 14, 2007
0

found this helpful
I would much rather have a dog " kiss "me on the mouth, than some men/ people I Know !!
By (Guest Post)
February 15, 2007
0

found this helpful
I had to lol at this one, not the question, just the thought...I should be dead by now!!
Actually there is more likelihood of getting ill if your kid licks you in the mouth!! or swapping tongues between sweethearts.
Nothing dirtier than the human mouth!!
February 15, 2007
0

found this helpful
Ha ha ha! thanks for all your responses! Yes it does seem to be a common thing for dogs to do! I wish he wouldnt but David sometimes catches you by surprise lol! .......... he's been to the vet and has a clean bill of health so i guess we'll all live!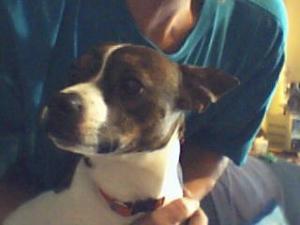 By Kim (Guest Post)
February 15, 2007
0

found this helpful
The old saying that there's nothing dirtier than the bite of a human, or a human mouth, or kissing, is only true if you let your mouth be dirty! yes, bacteria grow all the time, but nobody has to let them stack up until everything is covered in a thick scummy whitish coating.
Thank God for toothbrushes and all those things out there for cleaning between. I like the Water Pick or haystems myself. Tongue cleanliness is worthwhile too if you want nice breath, so scrape it!
By mawmawto4 (Guest Post)
February 19, 2007
0

found this helpful
I have had dogs all my life from birth. I have been licked all over my face & I sleep with my dog every night & I am 51 years old. I keep my dogs clean & my dog has always been around my grandkids. I have always had allergies but I guess I adapted to dogs. The experts say children develop more allergies if they do not have a pet.