Stiffened fabric with felt backing can be made into one of three gifts!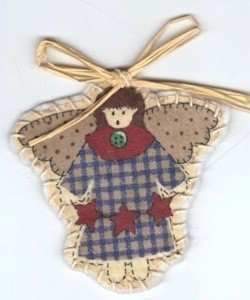 Approximate Time: 1-1.5 hours
Supplies:
fabric with your favorite things on them
white school glue
water
paint foam brush
crochet thread
felt scraps
ribbon
strip style magnet that has been flattened to "uncurl"
tacky glue or fabric glue
pin back
upholstery needle with sharp point
flat cutting board, preferably plastic
scissors
low temp glue gun is optional
low plastic tub (like pesto or dips) for mixing glue and water
hanger and clips/clothes pins
old book in zip lock bag or brick (something for weight)
raffia, buttons, etc. for embellishments
optional: small cookie cutters or stencils
Instructions:
Before I begin, keep in mind that this craft project will net you the gift of your choice. You can make it a magnet, pin, or ornament to hang from a tree, visor, door knob, etc. Because of that, keep the item small enough to work as either. My gauge is just about 2 by 1.5 inches, that size is just about perfect.
I chose angels because I love them. If you want puppies, kittens, teddies, etc., you can choose any image you want on the fabric. Later, I will show you how to not be restricted to that, but for now, let's continue.
Keeping in mind that the image will have to be a single item, avoid fabrics where things over lap, or just touch. Even if you have just 1/4 inch between them, it's good.
Place your fabric piece on a clean, plastic or wood surface that can be cleaned later. All that will be on it is glue and water, but if you do it on your gramma's antique table cloth, that would be bad.
In a container that you can brush from, mix 1 part glue and water to a nice consistency. If when you brush on a sample piece, your fabric puckers up a bit, it's a bit too much water. Just add a bit of glue and mix.

NOTE: Do not cut the images before you glue them! The only exception to this is if you only have one image and are only making one item.

Brush a light thin layer of gluewater to the fabric, making sure the entire surface of the image is coated. Keep going till all the pieces are coated.
Hang either from hanger or if you desire to do a larger piece, from a shower curtain rod. Some curling may occur during drying, but essentially, in 30 minutes your item should be nice and stiff. It cuts like paper so it's very nice to work with.
When it's done, cut the images around the "between parts" just loosely, don't cut around the images as the shape is, just "separate them".
Back at the table, take one item and brush the back with solid glue, not the diluted glue. Felt doesn't do well with water, so avoid that.
Stick the item onto felt scraps, making sure the felt is big enough for the item with some "wiggle room". Weight the item down with a book or something flat.
In the meantime, thread your needle with single strand of crochet thread that will show up nice against the colors of the item. This will give it a country affect.
When item and felt have bonded, let it air dry for a bit. You don't want any glue that is damp as it will gum up your scissors.
Now, cut carefully around each shape with the felt, too, about 1/4 inch of the felt showing. This is optional, but if the felt is a great color then it really makes the colors pop.
Whip stitch around the edges from the "top" of the item around to the top again. At this point, you can either use a ribbon for the ornament option, or if you want it for an ornament, you can leave about 6 inches from the tail when you start and when you stop. This will give you a nice loop for the tree. If you know it's going to be for a visor, then longer, etc.
Turn on the low temp glue gun.
If the pin back is your option, cut a small rectangle of felt about 1 by 1/2 inches, and turn the item over. In the middle, making sure to place the pin back in the correct direction to display the pin nicely, put a touch of hot glue in a short "cross like" shape 1 by 1/2 inches. Place the pin back along that long side, and place the felt cross wise to the 1/2 inch part of the glue. This adheres the pin and the felt backing for it at the same time.
If a magnet is used, use the strip like, and make sure it's been flattened so it doesn't curl. If the magnets you bought are not in a roll, do not worry about this. Simply hot glue it and press is under the weight.
The final touch is either raffia, buttons, or some kind of embellishment.
As promised, I said I would let you know how to do this without restricting yourself to images on the fabric. If you have a small cookie cutter, or stencil, you can stiffen the fabric and cut out any shape you want, doing the same things to this idea as you can do with the new shape. It's a great way of using up fabric scraps, too!
You now have a nice gift for someone or just for yourself!
N-JOY
By Sandra from Salem, OR