February 3, 2006
1

found this helpful
Let's not forget that with proper training, a dog should never run out the door under any circumstances. During obedience training you can train your dog to follow you by running in the opposite direction but a dog needs to understand that an open door isn't an invitation to bolt. A dog needs to sit at a door opening and be invited to come out or taken out on a leash if he isn't leash trained. And remember, a dog does NOT go through a door opening first! The leader does and the leader is YOU!!!
Behavior problems are the number one killer of dogs whether it's from running out into the street and being killed by a car or being taken to an animal shelter because his owner didn't have him obedience trained. More dogs are put down than not.
By debbie (Guest Post)
February 3, 2006
0

found this helpful
this does work. their curiosity about what you're going to do (eat, possibly?) drives them crazy. and they don't want to be left behind or left out. they hate being ignored. it also helps to have your car keys in your hand and let them jingle as you walk away. it makes them think they're going for a ride and maybe they can come, which most dogs adore.
don't talk to them until you get them home or in a place you can catch them. the silence builds their curiosity. when you do get home, make sure to reinforce the "following you" behavior with a treat ( and no, your not rewarding the bad behavior of running away, you're praising them for following you home safely, which is really what you want anyway)
By Gail (Guest Post)
April 13, 2007
0

found this helpful
Please any ideas. We have adopted a 4 year old lab. 2 months ago. She is normally very obedient and knows the basic commands, inside and out. We have tried to train her to stay on the property by walking the property line with her. Lately were trying without a lease to let her run the 1/2 acre yard of course while we are there.
Twice now she has crossed the property line and takes off, justs runs and ignores all commands. Very scared we may not catch her next time. Any suggestions. Only had her 2 months but would like to have her a lifetime.
By Angie (Guest Post)
June 11, 2007
0

found this helpful
thanks so much! This information has been very helpful. I have this same problem with my yellow lab. He is currently on one of his outings and i was looking for ways to bring him back. If i try to chase him, he simply thinks its a game, and runs furthur. I have just left a trail of cookies on the back stair which he has happily devoured. This has helped bit.. i have found the best thing to do is to ignore him and go inside because if i am outside, he will think i am there to continue the everlasting game of cat and mouse.
June 12, 2007
0

found this helpful
I had a dog many years ago which would do this. He definitely had me trained. What I would do is go get in the car, he loved to go for rides. But he was also very smart. This went on for a few years and we moved from me opening the door to the car to catch him, to me having to start the car for him to jump in, to me driving down the road. Another thing that helped was getting him neutered. He wasn't as likely to roam.
Susan from ThriftyFun
By Terry (Guest Post)
March 17, 2008
0

found this helpful
Another great resource that I have discovered while doing alot of research when my Beagle (Mattie) would always runaway is a GPS tracker/locator by a company called zoombak. When Mattie leaves the yard, I know exactly where she is. check out their website: www.zoombak.com Terry, Long Island
By Beth (Guest Post)
March 26, 2008
0

found this helpful
HELP HELP HELP! My Black Lab loves to get away. She has chewed through her collar and wiggled out of it and runs away when I go to catch her she runs further, and I am afraid shell get hit by a car. No treat, Call or Car Ride will get her to come back she only comes back when "SHE WANTS" the other day it happened and I sat on the front steps and she came over to sit by me FINALLY.
I want her to be able to Run without a leash seeing as we have no leash law! How is this possible?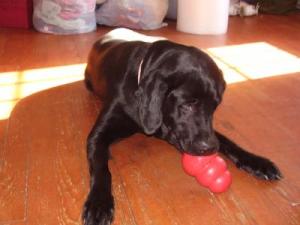 By Houdini in Hartville (Guest Post)
May 28, 2008
0

found this helpful
I symphatize with Beth. My dog is a female Irish Labrashep (Irish Setter/ Black Lab/ German shepherd) with a penchant for running wild. Sophie has leaped/climbed/kocked down every fence put up, chewed through her rope, and destroyed the electric collar my grandma bought her. One of the greatest problems is that my grandma takes care of her and her sister Winnie, and what with a farm to keep up and my grandpa to look after, it's near impossible to keep a tight leash or any leash at all on these two criminal masterminds.
Bottom line, I have three weeks, maybe four, to get her to start behaving or the two siblings are going to be parted and Sophie will be given away. Is there any hope for my Houdini?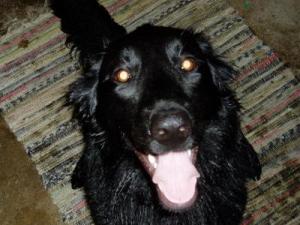 By Nick from Vermont (Guest Post)
June 27, 2008
0

found this helpful
I have the same problem with my dog Indy who's a yellow lab that loves to roam free. He can go outside on a long rope but if he just has his collar on, my family has a heck of a time catching him. Two things that we do that work are play golf with him (we hit golf balls across our lawn and then he tries to chase and catch them with his mouth. Not the brightest thing, but he loves it.) and when he gets tired, he either just kind of pants and stays still and me or one of my family members has to dive for him and grab his collar. But even then! He can to this maneuver where he shakes his head and the collar is gone and were still holding the collar and he runs a away with a grin on his face. or if we get him and he doesn't free himself, he will sit down and won't move. The other thing he will do is he will go over to our pool and walk in tho the first 2 or 3 steps and cool his belly off. then we can usually hook him. Please help. I have already tried all of the above solutions and they have all worked for a little while and now he's adapted to them and doesn't fall for it any more. PLEASE HELP!
September 24, 2008
0

found this helpful
Hi, I have been experiencing trouble with my YorkieXShitzShuXMaltese. She does the catch me if you can thing in public if she is off leash and can be a very scary thing.
I can tell you that she is improving with practice of the come command in an open park that is not close to traffic or road ways.
In private outdoors where there are no other people or pets, she is excellent and have never had a problem with the catch me if you can game that she has been known to do in public dog parks.
I have been taking my 16mnth old to the park. We started with a 6' leash that I would drop and allow her to miander and then call her. If she didn't come or bolted off to chase another dog or something, I could easily grab the leash.
Well in public, she is not interested in any treats no matter what they are so I simply use a vocal praise with a nice gracious pat and that seems to work.
Roxy has improved ten fold. The time before last she was fetching a stick. The last time she was proudly carrying her toy around and came every time I called her. There were other dogs, adults and kids surrounding her.
I was so proud of her.
Although I am not feeling 100% confident that she will always respond like this, we will continue to practice. I am confident that eventually we can walk in the park off leash and that Roxy will respond to all of my voice commands. It is about regular practice, consistency and enthusiastic praise.
Always praise the dog for positive response to your commands and never ever scold, yell or hit the dog for not responding in ways that you are expecting.
Instead, find the way that works for your dog to positively respond to what it is that you are requesting of them.
Always reward graciously, especially when practicing the come command but all commands during training and even thereafter.
I practice the come command with the sit and stay command as well. This seems to be working.
Everyday we work on Roxy's training.
I used to work on one command at a time but have since started throwing in a few more throughout the day.
A great one for us is having her find a particular toy by name and to "bring it here". She loves it and I feel that this helps with integrating the come command.
I praise her with either a cookie (small kibble treat) and throw the toy again or a short tug and a throw once she lets go of her toy. Roxy just loves to play with her toys.
Always praise your dog when they respond positively to what you ask.
Google for Tips on Dog Training+Come Command. There are many very good free resources.
Also try Googling the breed of dog and the training technique as well. For example "German Shepard+teaching come command.
Best of luck and yes, there is hope for most all dogs.
It isn't necessarily about a "Bad Dog Behavior" as it is "Improper Dog Handling".
We must find what techniques work for our dog specifically. Not all techniques will work on all dogs. Find what ones work well for your dog.
Our dogs simply want to please us. They love praise and really do want to do good. It is our responsibility as their handlers to guide them in the right directions to help them understand and positively respond, while helping ourselves gain the best relationship possible with our Fido.
There is always hope.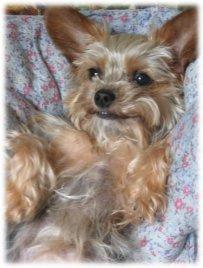 By Sarah (Guest Post)
October 4, 2008
0

found this helpful
Thank you sooooooo much! I love my dog more than anything and she will not come for anything so this info is really helpful!
By shelly (Guest Post)
November 29, 2008
0

found this helpful
Our min-pin got out of the house the day before thanksgiving and is still gone. We have had 2 calls of people who spotted our little one. Last call that call that came in the deer hunters followed him and lost track of him. He is quick. Any ideas how to catch him?
April 21, 2009
0

found this helpful
Let's face it...some dogs will NOT come to you if they get out. I have 4 dogs and they will all stay with me outdoors off the leash, but one of them will not.
He is an akita mix. He is very smart and doesn't fall for any of the tricks. Luckily, if we leave the garage door open he will come back in about an hour and sit by the door.
March 7, 2012
0

found this helpful
My daughter has a Puggle who will not come for anything....she absolutely loves to follow a lazer light, it thrills her to pieces, so when 'escapes' at night, they shine the lazer light in the yard and she follows it all the way up to the door! as for the daytime, she's yet to find what works for her. I'll give her some of these suggestions :) thank you.
May 12, 2018
0

found this helpful
What if the dog only has one eye?