Michawn
Bronze Feedback Medal for All Time! 188 Feedbacks
June 17, 2007
0

found this helpful
Spray paint? Maybe a color that will mask all, a silver, gold, stone flecked?

June 17, 2007
0

found this helpful
You could try doing a light wash in black paint mixed with a lot of water (so the other colors shows through but it tones it down by making it a darker tint.) Then when that is dry and as you want it, paint on a clear gloss.
If you don't think that would work, you could spray paint it white, get some new paint colors that you will like and repaint it. I don't know how much luck you would have removing the paint that is on there.
Susan from ThriftyFun
By Pat (Guest Post)
June 18, 2007
0

found this helpful
A coat of water based primer should do it nicely, the same kind you use on walls.

June 18, 2007
0

found this helpful
Sounds like you got an old batch of craft paints. They may be acryclics rather than waterbased general craft paints. I would take some dark brown water based craft paint and add water until it makes a wash-like consistency. Paint it on, leave it for a few seconds, then wipe most of it off with soft, absorbant cloths, being sure to leave brown in cracks, crevices or carved details.
This antiquing method tones down bright paint considerably and gives the piece an old look. Finish with a matte or gloss sealer spray, depending on the look u want.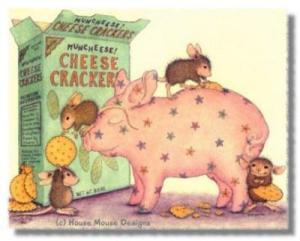 By louel53 (Guest Post)
June 18, 2007
0

found this helpful
I think all the other suggestions are very good. I just want to add that there is no need to take the paint off that you have used. Just paint right over top of it with new colors, or try the antiquing ideas that have been suggested. If they don't work, just try again. You have likely been using acrylic paints. You can mix them to get the colors you like better -- ie. if the green is too bright, add a little red or rusty brown to soften it. Try them out on paper to see what the colors are like.
By (Guest Post)
June 18, 2007
0

found this helpful
I read all the feedback you have received so far and it is all good. The only thing I could even add is this. If you do decide to go with an antique-ing method, you will be pleased to find that it is a great concealer for any small mistakes you may have made by getting slightly out of line. Also, it would be best to do the antique-ing in small parts at a time as if you have to wait to long before wiping down part of it, then you could get one side darker than the other.
Also my suggestion is to try your sealant clear coats on the back to see if you are going to want to use a matte finish or a gloss. This is strictly up to personal preferance as to what you are trying to achieve. Best of luck!
By Lynda (Guest Post)
June 19, 2007
0

found this helpful
I resurfaced two huge plaster Roman women plaster
plaques with a mint green all over, then when dry went back over just the "high points" with my finger rubbing antique gold from a tube. It just turned out so well. I also have a bust of Plaster that I have literally left white and LOVE it, so you might consider just plain white? Depends upon your wall, decor, place you will put it. Don't be afraid of it. The only thing with plaster is that it CHIPS EASILY and can scratch wood, use felt on bottom? So be careful with it. I've got several larger items I hope to patch, but the projects are down the list quite a ways.
Good luck and God bless you. : )
By Karen Lawson (Guest Post)
September 3, 2008
0

found this helpful
I think the antiquing idea is great but if you don't like that idea you can get some stuff that you can put on there that is a pearl finish that would look nice too. I don't know the name of it, sorry. Good luck!