How can you measure the worth of spending time with your child? In time? Money spent on activities? Neither! It is in their eyes when it is you they see when they wake up. It is in the way they say, "Momma", their voice so sweet and true. It is in the feeling of their soft little lips giving you a kiss. All of this I have learned since I quit my job and started staying home with my little Ava, who is now 18 months old.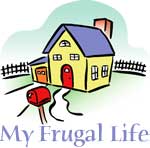 In order to budget and live on one income and give up 1/3 of our take home pay, I have become quite frugal. No longer do I make frequent trips to the mall for clothing for myself, or anyone else, for that matter. Now it is yard sales and consignment shops when we need something. This goes for toys and books as well. It is amazing what you can find in great shape for next to nothing (and sometimes for free!). And yard-saling is fun for me and for Ava.
The grocery list has changed, too. No more frozen dinners or pizzas, no more meal-in-a-box type purchases, and no more convenience foods unless they are priced at rock bottom and I have a double coupon. Name brand soft drinks are a thing of the past, too. Now it is store brand or nothing. We love sun tea and homemade lemonade. No more restaurant lunches or dinners; or at least very, very few. Funny thing is, I don't even miss any of this! I like cooking now that I have time, and making bread and other items from scratch is very satisfying. No preservatives, just all-natural ingredients; when possible. I used to think I'd miss going out to eat for lunch every day. Now I laugh at that notion. Miss spending up to $30 a week for meals I cannot even finish? I don't think so! Give me a PB &J and I'm all set.
I started making my own cleaning products and am saving a lot of money that way. Plus, it is healthier! Baking soda, white vinegar, borax and some pure essential oil cleans and disinfects just about everything. I read all about it in "Clean House, Clean Planet" by Karen Logan.
I have read many books on how to make it work, and have gleaned advice from each one. The "Tightwad Gazette", by Amy Dacyczyn, was life-changing for me. And even though this gigantic book was published in the 1990s and some of the information is out of date, I have benefited greatly from all of the tips and advice people sent the author. Did you know you could reuse the little ring from a milk jug to keep your socks paired in the laundry? I don't know if I'm there yet, but you never know when they might come in handy, so I'm saving them!
Is the "sacrifice" worth it? What sacrifice? Like I said, I don't miss the old ways at all. Being with Ava is a bigger paycheck than I could ever earn sitting at a desk, making decisions for a company that doesn't really care about MY bottom line. She gives me gold coins in her smiles, in her kisses, in the cute little dances and songs, and in this opportunity to see her grow and learn, and be a part of it, too!
Yes, some days I don't get a shower, some days the house does not get picked up, and some days I want to run away from the mound of laundry that seems to never go away. But when I remember the dread of dropping Ava off at daycare and the way I missed her all day long, and that the laundry will eventually get done, and then Ava starts humming, "Twinkle, Twinkle Little Star", all is well in my world!
Carrie Nowlin from Okemos, MI
Do you have a frugal story to share with the ThriftyFun community? Submit your essay here: http://www.thriftyfun.com/post_myfrugallife.ldml