I am currently in search of a digital camera. My budget is $250, though I want a quality camera. I do not need any special features. I just want a good easy to use camera, and would prefer one with a large screen to view pictures. If you have a camera that would work with my suggestions, please tell me the name, the brand, and where you purchased it. Thank you very much!
By Cara from Firefield, USA
Add your voice! Click below to answer. ThriftyFun is powered by your wisdom!

Suntydt
Bronze Feedback Medal for All Time! 109 Feedbacks
July 20, 2010
0

found this helpful
Well, I recommend a Canon Powershot. I don't know what model they are up to at this point but mine is a Powershot A300. It is a good little camera. Easy to use. The onle downfall to it is it was the first design of this model using AA batteries. It goes through them like a duck on water. I think I read that the new Powershot cameras have been improved beyond this design failure. I still like my camera a whole bunch and wouldn't get rid of it. I just buy lots of batteries at once. :) But like I said, they designed past this flaw so I would check it out. I bought mine at Office Max in 2005 or 6. I don't remember. But I am sure it was under $200.

July 24, 2010
0

found this helpful
I always check out reviews on overstock.com and amazon.com, then I check out the local stores or order from those websites. I never leave my batteries in my camera, they will suck the energy from them or they will be too old to use when I want to. I always keep lots of batteries on hand for this purpose though, you never know when you will need your camera! Good luck. :)

Elaine
Bronze Post Medal for All Time! 172 Posts
July 24, 2010
0

found this helpful
Are you familiar with Kim Komando? She has a website and a radio show that covers about everything to do with computers and cameras. She often gives advise on what camera to buy for your needs. My camera is a Canon Power Shot SD1200IS and I love it. It was only $150.
July 24, 2010
0

found this helpful
I have a nikon coolpix S52. I have had it a couple of years and it is the second one of it's kind I have purchased. I'm sure by now there are newer models but any of the coolpix model camera's will do. They are point and shoot w/ rechargeable battery. (comes with the charger) You can take about a million pictures before you need to download It is a great camera costs around $200. and takes phenomenal pictures, and the viewing screen is large so the pictures are easily viewed. some of the newer models allow you to fix red eye and things right on the camera. I purchased it at Ritz Camera in Sterling Heights Michigan

July 30, 2010
0

found this helpful
You must go to get the GE branded ones it's 12.2 megapixel at Kmart I paid 69 bucks for it. It is awesome, it has every possible feature and then some. It is awesome! Also sears sells it to I got mine black Friday it is like 79, I think now, but it is awesome. Batteries last forever!

August 13, 2010
0

found this helpful
Whatever brand & model you choose: stay away from any camera that takes AA batteries. Make sure you can use NiCad rechargeable ones. They last longer and save $$$ by recharging.
My Canon Sure Shot takes AA bats and they die after about 30 shots.

August 14, 2010
0

found this helpful
IMHO Panasonic has excellent optics and the best features for the money, at least when I was researching cameras in 2006. I've had an FZ7 (2006) and FZ8 (2007) and love them. User friendly, take great pix, and not expensive. I killed the FZ7 when I dropped it in the sand on vacation. Bought the FZ8 which had just come out to replace it and have been happy with it. Both were around $300 at the time.
Canon and Nikon are OK. I wouldn't get an Olympus, or Kodak.
Happy shopping.

September 8, 2010
0

found this helpful
September 8th, 2010
I recently spent several days, comparing compact digital cameras. Not just comparing but really learning as much as I could from reviews that people had written. I love my large camera but would never, even consider taking it to Disney World or any place like it where it could be damaged by fast moving rides not to mention carrying it everywhere too.
In the end I chose, the Panasonic "Lumix FH20".
It's not an expensive camera but the pictures are incredible and I did not find one bad review.
The only thing I came across was a few people who complained about the battery. I have not had one bit of trouble with this camera and it was pretty simple to learn how to use.
Further more, I have a neighbor who is an Engineer and he really thoroughly researches every little thing he owns and he also has a Lumix. I actually brought my camera over to show him not knowing that he also had one so I was tickled silly to find out that I did the proper research and came up with the same camera. I can honestly say, I love my camera and it fits very easily into my pants pocket and or pocket book.
To say I'm a fan of the Lumix would be an understatement and here's the best part, I bought it on-line, brand new in a box that had never been opened on Amazon.com. I think I paid just under $160 shipping included. In my opinion it truly is a great little camera.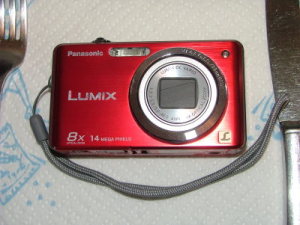 Add your voice! Click below to answer. ThriftyFun is powered by your wisdom!
Can anyone recommend a good, reliable, easy to use digital camera; hopefully not hideously expensive? I'd like to buy one for my husband and I know nothing about them and he's the first to admit he's far from hi-tech.
Bonnie from Tuckerton, NJ

Answers:
Every so often you have a column on cameras written by Michael. Might I please have the link to it so that I can evaluate the best digital camera to buy to sell items on ebay. Thank you.
Joesgirl from Beverly, MA

Editor's Note: We weren't able to find the column that Joesgirl is looking for but I am sure readers have some good digital camera recommendations. If you have a digital camera that has worked well for you please post feedback about it.

Answers:
Digital Camera Reviews
I just purchased a Kodak Easy Share camera V530. It is easy to use and the pictures are great. Make sure whatever camera you buy, get one with a rechargeable battery. Regular batteries get eatten up so quickly. Good Luck.

By aline
Digital Camera Reviews
I have the Casio 8.1, small compact camera, takes excellent pictures, very user friendly. I take a lot of pictures and have not had any problems with the camera. Would buy another Casio.
By Poco
Digital Camera Reviews
I love my Nikon Coolpix 3100, and there are more Nikon's out there that they have just come out with that are even better than this one. My friend who was a photographer for the military told me also this brand is the best.

By Karen in SC
Digital Camera Reviews
My friend showed me his Casio Exlim 5 pixel and I fell in love with it. It has a larger screen than some of the others I looked at and loved all the extra things that you can do with it. It even takes movies on it and all transferable to my computer. My screensaver is all my pictures that were downloaded from my camera. I have pictures enlarged and they are also very sharp. I carry my camera with me at all times. I am a photo nut and love my camera. Have fun!

By Linda from Las Vegas, NV
Digital Camera Reviews
I used to do eBay, and I bought a Sony Mavica FD73 to take my pictures. They don't make this model any longer, but you can still buy one from Amazon.com in used but good condition. The features that I like about this camera are the 10X Zoom that is great for taking closeup pictures of items for eBay and the fact that it saves the photos to a floppy disk instead of a memory stick. I have used this camera for about 7 years, and it still works very well. I had to replace the rechargeable battery once in all these years. I submit many pictures to ThriftyFun, and they are all taken with this camera.
I have started using this camera instead of the 35MM camera that we used for picture taking for years. I can take the pictures with this camera and see them immediately to know if I got a good shot. With the 35mm, I would usually take multiple pics so that when they were developed, I could expect to have at least one good picture. I download them to my hard drive from the floppy and then can reuse the floppy. And, if I want prints, I can upload them to Walgreen's. In about an hour, the prints are ready to pick up. Great pictures with no film to buy or have developed.
By Harlean