In 1932, a seed producer named W. Ray Hastings proposed the idea of All-American Selections as a way for home gardeners to learn which new varieties of vegetables and flowers are truly improved each year. Only the seed of new, previously unsold varieties of flowers and vegetables would be grown throughout North America, with the results then assessed by skilled, impartial judges.
All-American Selections has conducted trials and selected winners every year since it was founded in 1932. Instead of advertising the winners, it relies on consumer magazines, newspapers, garden clubs and extension agents to introduce AAS Winners to the gardening public. Here are the winners for 2007.
Celosia 'Fresh Look Gold'
Correctly named, these plants look as fresh in September as they did when planted in the spring. 'Fresh Look Gold' plants are embellished with bright golden plumes that remain colorful all season, not "browning" with maturity. Since the plumes remain attractive, there is no reason to deadhead and no pest problems are expected, thus 'Fresh Look Gold' needs little maintenance in a sunny garden. It is a carefree annual useful in formal or informal gardens. 'Fresh Look Gold' proved to be heat, humidity and rain tolerant in AAS Trials across North America. This celosia is one of the best annuals for season-long performance.
Genus species: Celosia plumosa
Common name: woolflower (Hortis third) Plumed, or Feather celosia
Unique qualities: very intensive color, season-long performance
Flower size: central plume 4-4.5 inches long and 2-3 inches wide
Form: plumed flower spike
Color(s): deep golden yellow
Plant height: 12 inches
Plant width: 12 inches
Garden Spacing: 10 to 12 inches apart
Length of time from sowing seed to flower: 110 days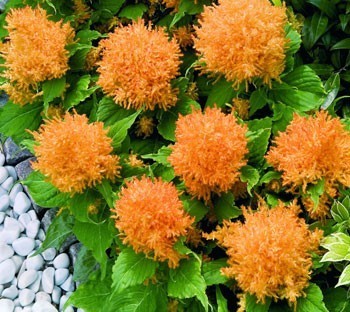 Petunia F1 'Opera Supreme Pink Morn'
Iridescent pink blooms and a silvery shine are the unique features of this vigorous trailing petunia. The 2.5-inch flowers are pink, shading to creamy white in the center, with a yellow throat. Plants are continuously flowering. The hybrid plants are capable of growing three feet in sunny locations.
This spreading quality covers garden soil and can choke weeds beautifully. Plants attain a height of only 4 to 6 inches. 'Opera Supreme Pink Morn' can be relied on for exceptional garden performance without pruning or deadheading. Less work enables gardeners more leisure time in the garden.
Genus species: Petunia x hybrida
Common name: petunia
Unique qualities: new iridescent pink color in trailing petunias
Flower size: 2.5 inches
Form: trailing
Color(s): pink shading to creamy white with a yellow throat
Plant height: 4 to 6 inches
Plant width: spread of 3 feet
Garden Spacing: two feet apart
Length of time from sowing seed to flower: 90 to 110 days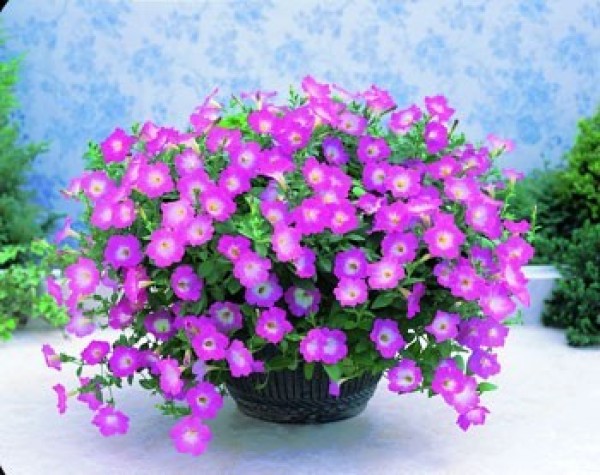 Vinca 'Pacifica Burgundy Halo'
'Pacifica Burgundy Halo' is the first vinca with a burgundy halo surrounding a large white center. Early flowering with a well balanced plant form, 'Pacifica Burgundy Halo' is highly recommended for spring or summer plantings. With proven heat and drought tolerance, the garden performance of 'Pacifica Burgundy Halo' is assured. In a full sun garden location, these vinca plants will reach a foot tall and wide when mature. Due to the ease of growing and continuous flowering, 'Pacifica Burgundy Halo' is perfectly suitable for any garden or patio planters that receive sun. Because Vinca needs less water than other annuals, planting 'Pacifica Burgundy Halo' in containers means fewer trips with the hose to water. Gardeners can rely on 'Pacifica Burgundy Halo' to provide color all summer without pinching or tending to plant maintenance.
Genus species: Catharanthus roseus
Common name: vinca
Unique qualities: unique color in large white eye type, larger flowers and more vigorous
Flower size: 2 inches
Form: single
Color(s): burgundy with large white center
Plant height: 12 inches
Plant width: 10 to 12 inches
Garden Spacing: 10 to 12 inches
Length of time from sowing seed to flower: 60 days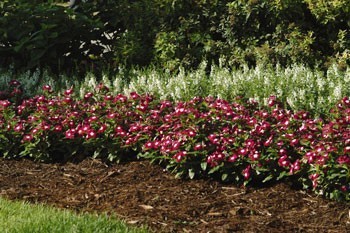 Pepper F1 'Holy Molé'
'Holy Molé' is the first hybrid pasilla-type pepper, which is used to make the famous molé sauce. 'Holy Molé' showed improved vigor, earliness and considerably higher yield than the comparisons in side-by-side trials. A reason for the higher yield is the virus resistances bred into the variety. 'Holy Molé' is resistant to two common viruses that stunt plants and reduce pepper production.
The immature green peppers are 7 to 9 inches long and can be harvested in about 85 days from transplanting. If fruit is left on the plant, they will mature to a dark chocolate color. The pepper flavor is nutty and tangy. Mature plants are 3 feet tall; a perfect size for patio containers. 'Holy Molé' is easily grown in a sunny location and thrives on summer heat.
Genus species: Capsicum annuum
Common name: pepper
Fruit size: 8 inches long, 1.5 inches wide; fruit weight 1.5 to 2 ounces
Fruit shape: long and smooth like a Pasilla type
Color(s): dark green immature, brown mature
Plant height: 20 inches
Plant width: 20 inches
Plant habit: indeterminate growth, upright plant, spreading branches
Garden Spacing: 2 feet apart
Disease tolerances: Potato virus Y and Tobacco Mosaic Virus Strains 0, 1 and 2
Unique qualities: First hybrid Pasilla, early, higher yield, hybrid vigor
Length of time from sowing seed to flower: 120 days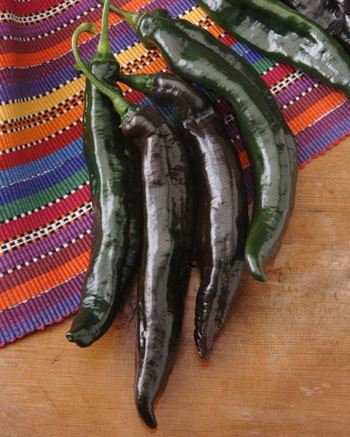 All Photos by All-American Selection.