Among all of the new cultivars introduced each year, All-American Selection (AAS) winners are selected based on their performance in test garden and greenhouse trials around the country. If you're looking for flowers that have been 'tested nationally and proven locally' and deemed reliable over a broad range of growing conditions, check out these AAS winning flowers for 2010.
Gaillardia F1 'Mesa Yellow'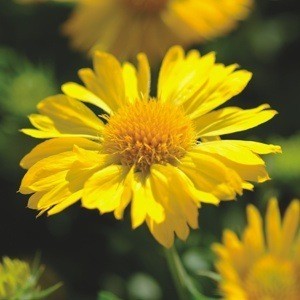 Gaillardia 'Mesa Yellow' is the first hybrid blanket flower bred for compact growth and prolific flowering. The 3-inch daisy-like flowers offer a superior presentation of color, which blooms early and continues throughout the summer. The flowers are great for cutting and attract butterflies when left on the plants. The seed cones attract birds in the fall.
Mature plants grow into 2 foot tall mounds and prefer a sunny location. A neat mounding habit also makes them ideal for small garden spaces and in containers, when planted near the outside edge they will cascade down the sides. 'Mesa Yellow' plants proved to be wind and rain resistant, and relatively maintenance-free. Gardeners will find them available as both seed and plants. Recommended spacing 12-18 inches.
Common Name: Blanket Flower
Flower color: Yellow
Unique qualities: Mounding habit. Does not get tall, loose, and floppy. First F1 Gaillardia from seed.
Snapdragon F1 'Twinny Peach'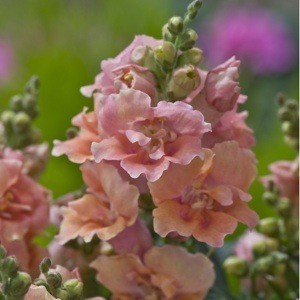 Snapdragon 'Twinny Peach' gets its name from its unique double-flowered form. Another unique quality is its blend of peach tone colors-soft shades of peach, yellow and light orange. No other snapdragon offers this range of colors.
'Twinny Peach' produces abundant 12-inch flower spikes in full sun, which are excellent for cutting. These annuals continue to flower all season with little care and exhibited good heat tolerance in the AAS Trials. Because they are quite resistant to weather, they can be grown in places other snapdragons cannot. Gardeners will find them available as both seed and plants.
Common name: Snapdragon
Flower color: Shades of peach, yellow, and light orange
Unique qualities: First double flowered snapdragon with compact habit. Unique color.
Zinnia 'Zahara Starlight Rose'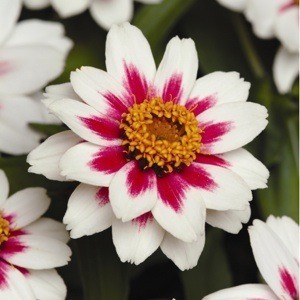 The 'Zahara Starlight Rose' is an old-fashioned flower with a stunning new color twist, and exceptional resistance to heat, drought, and humidity. Because of these outstanding qualities, it was planted for the Beijing Olympics. The striking 2 inch bicolor flowers are white with rose-colored centers and provide generous color all season, and they are attractive to bees and butterflies.
'Zahara Starlight Rose' is very easy to grow. It's the perfect plant for the novice or experienced gardener because it offers maximum blooms with minimum care. It is resistant to leaf spot and mildew, which can plague many zinnias. In full sun, mature plants grow about 12 to 14 inches tall and wide, large enough to make a bold statement in containers or patio urns. 'Zahara Starlight Rose' will be available to gardeners as either seed or plants.
Common name: Zinnia
Flower color: Rose and white bicolor
Unique qualities: First rose and white bicolor zinnia, with disease resistance.
Visit the AAS website to read about more 2010 AAS Winners including:
Echinacea purpurea 'PowWow Wild Berry'
Viola F1 'Endurio Sky Blue Martien'
Zinnia 'Double Zahara Fire'
Zinnia 'Double Zahara Cherry'
Marigold F1 Hybrid African 'Moonsong Deep Orange'
Watermelon F1 Hybrid 'Shiny Boy'