Much like the Perennial Plant Associations award for the Perennial Plant of the Year, The All-America Selections organization honors a selection of new seed-grown flower and vegetable varieties each year. The AAS winners are selected for their outstanding performance in field trials conducted at locations throughout the country. Some years there have been as many as 32 winners, but this year, only three made the cut. (Visit www.all-americaselections.org to find a display garden near you.)
The AAS Bedding Plant Winner
Asti White Osteospermum
(Also known as Cape Daisy, Blue-Eyed Daisy or African Daisy )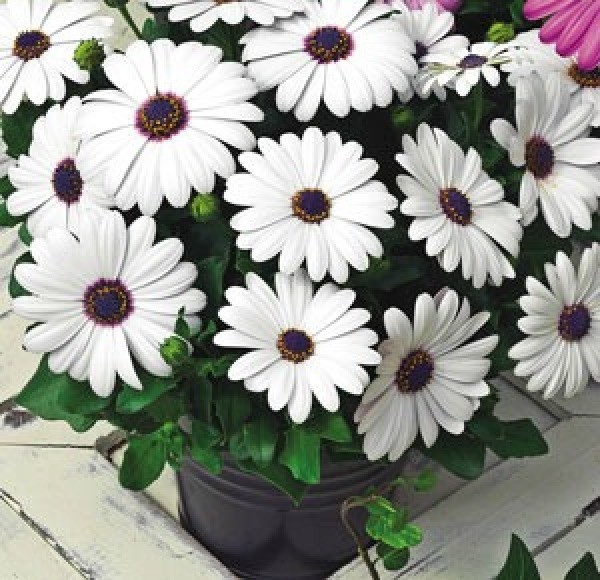 Pure white daisy flowers with blue centers are the main attraction for 'Asti White.' The large blooms, 2 to 2-1/2 inches across are borne on stems that gracefully wave in the wind, and the thick fleshy leaves makes this a preferred annual for dry conditions. Originally, from South Africa, 'Asti White' is the first white Osteospermum, or Cape Daisy, propagated from seed. Unlike other daisies from this region, 'Asti White' flowers remain open under overcast skies.
The 'Asti White' will bloom and recover nicely despite a slight frost, so they can be planted several weeks earlier than other tender annuals. That said, the plants still need 17 weeks from seed to flowering, so gardeners with a short growing season will either need to purchase bedding plants or start seeds early indoors. 'Asti White' can be planted in the spring or fall, in a sunny site with well-drained soil, or are well-suited to containers 6-inches or larger. Plants reach a uniform height and corresponding width of around 17 to 20 inches.
'Asti White' Growing Guide
Genus species: Osteospermum ecklonis
Common names: African Daisy, Blue-eyed Daisy, Cape Daisy
Unique qualities: A perennial subshrub in its native Africa, Asti White can be grown as an annual in North America.
Flower size: 2 to 2.5 inches
Color(s): White with blue center disc
Exposure: Full Sun
Soil: Thick fleshly leaves allow it to tolerate dryer soil conditions.
Size: both 17-20 inches tall, and 17-20 inches wide
Garden spacing: 12 inches apart
Length of time from sowing seed to flower: 17 weeks from seed to flower. Gardeners with shorter seasons will want to look for bedding plants at stores, or start them early indoors.
The AAS Cool Season Bedding Plant Winner
'Skippy XL Plum-Gold' Viola
(Viola cornuta Skippy XL Plum-Gold)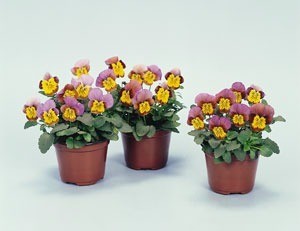 The sunny gold faces of Skippy XL Plum-Gold are sure to charm anyone glancing their way. Their faces are uniquely designed with plum shades surrounding the golden centers, which contain radiating black lines affectionately called whiskers. The blooms are small, about 1-1/2 inches, but highly animated. The fact that the prolific number of blooms produced more than makes up for their small size, is one reason 'Skippy XL Plum-Gold' won the AAS Award.
In Northern zones, expect plants to bloom from spring to mid-summer. In the South, planting them in the fall may provide you with a perennial plant whose cheerful golden faces delight you in the garden all winter long. Their petite size of 6 to 8 inches tall and wide, make them highly desirable as companions in containers or widow boxes. Look for both seeds and bedding plants at local nurseries and in garden centers this spring and fall.
Skippy XL Plum-Gold Growing Guide
Genus species: Viola cornuta
Common name: Viola
Unique qualities: Color combinations; an abundance of small flowers
Flower size: 1.5 inches
Form: Single
Color(s): Plum shades with golden center and dark whiskers
Exposure: Sun
Soil: well-drained, thrive in cool conditions
Size: 6 inches tall, 8 inches wide
Garden spacing: 8 inches
Length of time from sowing seed to flower: 10 weeks
2008 AAS Vegetable Award Winner
'Hansel' Eggplant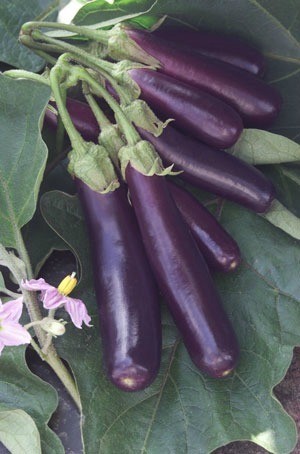 This miniature eggplant is a smaller-sized plant that produces abundant finger-sized clusters, bearing 3 to 6 fruits each. 'Hansel' is an early-maturing plant, taking about 55 days from transplanting into warm soil to harvest-around 10 days earlier than its closest competition. If left on the plant, the plant's 3-inch fruits will grow up to 10 inches in size, yet remain tender and non-bitter, unlike other eggplants. This trait offers gardeners the flexibility to take a much-needed vacation during the summer months without fear of losing the harvest in its prime. For patio gardeners or those with small spaces, 'Hansel' has an compact, upright growing habit ideally suited for containers or vertical gardening. 'Hansel' will be available this spring as both seed and young bedding plants.
Hansel Eggplant Growing Guide
Genus species: Solanum melongena
Common names: Eggplant, Aubergine
Fruit size: Can be harvested at all lengths from 3" to 10"
Fruit shape: Elongated, cylindrical shape
Color: Glossy; dark purple
Size: 2 to 3 feet tall; 30 inches wide
Habit: Compact upright growth, great for containers
Exposure: Full sun
Garden spacing: 2 feet apart
Unique qualities: Miniature plant. Clusters of tender sweet fruit with few seeds, early crop.
Length of time from transplanting to harvest: 55 days; harvest in mid-summer to late summer.