August 6, 2009
0

found this helpful
First thing I thought of was paper clay or papier mache. Make flour and water paste in large container and soak the shreds in it until its really mushy and can be molded with your hands. Make paperweights, masks etc. For a smooth final layer, use bathroom tissue, tissue paper, paper towels, nose tissue by applying to still wet shapes and coating with a layer of thinned paste.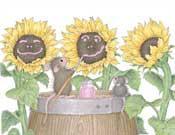 August 6, 2009
0

found this helpful
How about new paper for making your own cards and scrap book pages? You can buy the kits with the screens etc included or google it on line. There are lots of sites that will tell you how to make the paper, some of the awesome things you can do with it as well and all the equipment you need.
It's mainly a basin or two and some fiberglass screening and an old towel. Your local library will probably have a book on paper making as well. Think about it, free paper for all your crafts.

August 8, 2009
0

found this helpful
In addition to making your own paper, add flower seeds to make seed paper. Once dry, can be cut in shapes. Send in cards as a thinking of you spring gift. If the paper is colored, cut designs out of cardstock and glue strips of paper next to each other to cover. Trim off edges. Can be used as an insert in cards, especially at holiday times. Will then be a hanging ornament for after. Or use as unique gift tags.
Make mosaic pictures or frames.
If words are able to be read clearly, laminate strips, cut them into individual words, add magnets to the back and use to post messages on fridge. Could also be used as a rainy day activity for kids as a game.
Make poi balls: take 3 four foot strands of yarn and braid. Tie a knot in each end. Take a large wad of shredded paper and wrap around one end of braid. Wrap this with toilet paper. Make sure fluffy and soft. Wrap in plastic bag. Tie a piece of yard at bottom of bag to keep it on. Make two. Use to twirl like they do in Hawaii. Kids love them.

August 9, 2009
0

found this helpful
Sort-of-paper-mache...one time I wove the paper to make place mats, then white-glue-and-water brushed them for stiffness, acrylic painted for color and then stenciled. It was fun, and a pain-in-my-arms for the amount of time, and certainly not cost effective or anything, except that it was a calming, soothing time that I enjoyed.
I won't do it again with such small strips. The idea is workable, but the proportions and the end product need to change. Good luck.

August 18, 2009
0

found this helpful
The idea of creating a picture from a coloriful shreaded paper source comes to mind.
first draw the line boundaries of your picture.
then raise those lines by gluing maybe yarn the same colour as the bits of paper you would be using in that area.
then with a brush paint the glue between the yarn lines and add the coloured shredded bits of paper.
Have I done this?
Not yet !
This subject got me to thinking about it.
I will be doing a small piece as soon as I figure out what picture I will try to create.
Right now I am thinking of a flower type picture.
Anyway Good Luck
Mr. Thrifty

July 26, 2019
0

found this helpful
I love to do crafts with my grandson but ,now I have a lot of shredded paper we can color with food coloring and maybe make a photos and other crafts but, I will get a good idea soon, you can used it with a Easter baskets, but,that's all for now.