I am blessed to have grown up in a family where my parents had gone through the Great Depression and then WWII. They never made being frugal seem like punishment, but more of a game, where I was taught to look at the bigger picture.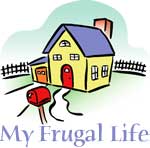 Like learning that when we use electricity, we are paying for some CEO's nice salary. Do we want him to have our money or do we want to keep as much of it as possible? Or learning that, by living in a smaller home that one can actually afford, will save money because less is more. Living below one's means would result in never being without one's needs being met.
Do we want to pay someone else to haul away our yard and kitchen scraps, or do we want to feed them to our chickens or compost them to get free rich soil? Do we want to collect the rain water to use in the garden or do we want to spend our hard earned money to buy water from an outside source? They taught me that, with a few tries, I could master making artisan breads and cheeses for far less than they cost in some store, and that I would also know what was in the item. That making homemade active culture yogurt takes less than 10 minutes and cost 90% less and is fresher than store bought.
Sometimes I think it's my Aspergers that has made me more observant and, in doing so, more frugal with more money in savings. I remember watching my Mom, who was a school teacher, hang the dark clothes on the clothesline early in the morning, turning the pants inside out. She told me that this prevents dark clothes from fading. And that drying white clothes between 11 am and 3 am, when the sun is hottest, also acts as a natural sanitizer and bleach.
This is why cloth diapers usually look so white. I learned that adding less detergent gets clothes just as clean as long as they are agitated longer. Adding a cup of plain vinegar in the rinse cycle not only removes soap residue which makes clothes stiff, but also keeps the drain clear.
Then there was my Dad who insisted that when we hunted, we never ever take aim to shoot an elk, deer etc. unless we knew we had the best clean shot so the animal would be killed quick and not suffer. None of the animal was to go to waste. When the animal was gutted, other animals would have food. We then would dress the animal out so we wasted nothing. Any trimmings were cooked and fed to the hunting dogs. Hides were passed on to folks who tanned hides. Eyes were used for science class or passed on to science class teachers.
Even the chicken eggs were not wasted. Come fall, we still use small cuticle scissors to cut oval openings in the shell,then dump the contents into a bowl for use in cooking. Rinse the inside of the shell, let dry and then decorate for tree ornaments. Old clothes are turned into squares for quilts or strips for braided rugs.
My parents believed young boys needed to know how to cook meals, mend clothes, and keep a place clean, and that young girls should know how to use power tools correctly, do basic car, home repairs, and slaughter meat animals. This is because knowing how to do those things meant more money in savings (and less going to make someone else richer and well off), as well as the idea that what you have to take care of, you will use wisely.
My parents believed that when one buys cooking items, tools, etc., that one is making an investment. These are tools that will make a job easier and one shouldn't have to buy replacement items very often. The Le Creuset cookware, the All American pressure canner, Excalibur food dehydrator, and grain mill, prices that made me wince when bought, but are still going strong six, ten, or more years later. How many master craftsman, cooks, auto mechanics, do you know who don't have quality equipment rather than cheap stuff?
Frugal is NOT a negative word. It denotes wisdom and is a word all children should learn to appreciate. Show me a wise frugal person and I will show you someone NOT in debt, or even risking being homeless.
By Beth from Valley Springs, CA
Do you have a frugal story to share with the ThriftyFun community? Submit your essay here: http://www.thriftyfun.com/post_myfrugallife.ldml