June 1, 2009
0

found this helpful
Get another dog! Mine keep each other very busy.
June 1, 2009
0

found this helpful
This sounds like a question I could have written. I have four dachshunds, and they follow me around all day. They die to go out, but if I pop back in the house, they all come in through the doggies door.
Sometimes I just sit on the couch and they all pile on top of me. But at least they settle down. I wish they could do crafts or color, ha ha. Sorry I couldn't help, but I share your pain.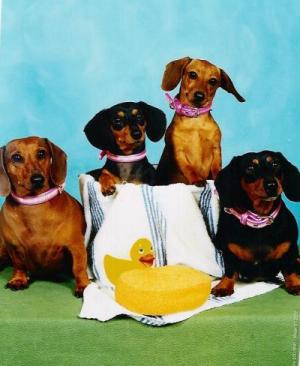 June 2, 2009
0

found this helpful
I have 2 dachshunds and even with 2 they get bored sometimes. I found an easy solution!
I bought several battery powered toys that go all over the house by themselves. Whenever they get bored, I turn one on and let it go. They have a ball chasing it around for a while! When they get tired of if, I simply pick it up and put it away. But it occupies them for a while and breaks up their boredom. Also I bought several different ones becasue they do get tired of playing with the same toy all the time.
Along the same lines, I also have a Roomba vacuum cleaner. The dogs have fun chasing it around while it works too! It also keeps them busy moving all their toys from one area to the next so the Roomba won't "get" the toys! It's hilarious for me to watch too!
June 4, 2009
0

found this helpful
There is a ball at the pet stores that you can get that allows you to put small dry dog food in it. You can accomplish two things at once with it - feed the dog and keep him occupied for quite some time. We used them to occupy our big dogs when they were puppies.
June 4, 2009
0

found this helpful
My Dobies like to watch TV so when I leave for work I pop in a children's DVD. Oh, and they have plenty of toys, stuffed animals, and tennis balls around. Maybe a Kong filled with lots of goodies would keep him busy.
I also agree that a second dog would help.
Jennifer
Northern Virginia
June 4, 2009
0

found this helpful
Of course, as you know, a Dachshund was bred for going into holes and getting "critters", so they are a high energy, "have to be busy" dog. If he could be taken out early each day, and really given a good trot, (good for him, tiring for you), and again in the evening, as well as using the treat ball, as others have suggested, you might have a happier dog. We have a small rescued dog, part terrier of some sort, and she gets her small meal, morning and evening in a treat ball. She loves it, and as we are older, the get out and jog is very hard.
June 4, 2009
0

found this helpful
To keep my dog occupied while I was out, I took a tennis ball, threaded some strong twine through it using a long, very sharp needle (through one end, through the middle, and out the other side)...and hung it at doggy head height from the ceiling. She spends hours trying to grab that ball!
February 6, 2010
0

found this helpful
txbetty, I feel for you. I have a 65-lb high energy dog. The weather is very bad now, and I can't even get out to take him to cage-free boarding where he can play with other dogs.
I do this sometimes when I have to clean house, or spend several hours not attending to him. At times like this, I do engage him and we play, but that lasts for only so long and I can't get to what I need to do.
September 2, 2013
0

found this helpful
I have a 2 year old miniature long haired doxie who is rarely without her ball. She would like to play with it (and me) 24/7. She especially loves stair-fetch, where she sits at the top of the stairs and sends the ball over the edge so that I can catch it and throw it back for her to catch and send back down.
I have discovered that she adores cardboard boxes. She will spend lots of time pushing it around on the floor and if I hide things on it, she'll slowly destroy the box getting into it. This is a bit messy, but well worth the free time it buys me.