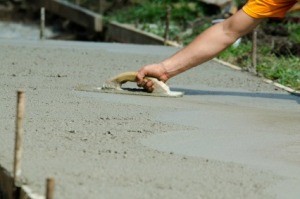 Last year we had a cement patio poured in back of the house. They insisted on "brooming" it, making little grooves which I protested but they did it anyhow. Is there any way to sand that down so it is smooth? Also, my husband was repairing the lawn mower on the patio and spilled oil and/or grease on it. He insisted on cleaning it by using Gojo, water and a wire brush, despite everyone's advice NOT to do that. Now our new patio looks awful! Any suggestions? It isn't in spots where I could cover it with lawn furniture or planters either. I am sick about it.
Marlene from Larimore, ND
Answers

Holly
Silver Post Medal for All Time! 364 Posts
May 17, 2007
0

found this helpful
Instead of changing the floor's surface, install a floating floor to cover up the mess. Interlocking 'rubber' tiles in various colors. It's at Lowe's. Might also be at Home Depot.
Saw it on an Oprah tv show that aired on 5-17-07, in which she paid for some spiffed up some apartment patios with the help of an Australian designer.
I wish she'd do the same for my house.
By (Guest Post)
May 17, 2007
0

found this helpful
Get a pressure washer and pressure wash it...if you do it correctly it will remove the layer of concrete where it is ruined. Of course, you can not do this all the time, because you will "wash away" your concrete. But in order to fix it, do this and further cleaning can be done with a brush and bleach mixture...bleach and water...will clean it and get rid of all mold mildew, organic matter stains, etc.
Other than this, your only option is to cover it up..as the other post suggested Good Luck

May 17, 2007
0

found this helpful
Hi - I was able to remove nut stains from my patio using oxyclean and a brush. I wet down the surface, sprinkled on oxy-clean and used a barn brush to scrub with. It worked very well, perhaps it will work on oil as well. Good luck!

May 18, 2007
0

found this helpful
My DH is a cement finisher and "brooming" concrete is meant for driveways and sidewalks ( to prevent slipping on when wet).
If you asked for a shiny finish that's what you should have gotten.
Whoever did your patio broomed it because they didn't want to sit around and power trowel to a smooth finish, which is what should have been done.
They figured that they could broom it and move on to another job.
It's too bad that a year has passed, I don't know about the laws where you are.
I don't know anything that will make it smooth, except a recap( a thin layer of concrete on top)
I don't know what your concrete is like where you are, we are in northern Alberta, Canada and there is no way a pressure washer will remove the ridges.
If you remove the top layer you will expose the rocks underneath and that will make a worse mess.
I would spread the word around the neighborhood about this contractor.
Also if you hire a contractor for any job, don't be afraid to go and take pictures, before, during and after.
Nothing makes me more mad than contractors who are " in it only for the money"
If you don't take pride in your work, no matter what your occupation you shouldn't be doing it.
People work too hard for their money.
By Joe Vandergast (Guest Post)
March 30, 2008
0

found this helpful
I used a pressure washer and took off the patina I sealed it last year (12 yrs old), and I just noticed some flaking and acne(pitting). What can I do to stop the cancer?

June 17, 2008
0

found this helpful
The best way is to use a angle grinder with a diamond cup. this will work the best. Beware it will create dust, wear a mask
Answer

this Question

I need to know how to do an outdoor concrete floor.
By Maritza from Ocala, FL

Answers

March 24, 2010
0

found this helpful
You don't say how big the floor is going to be. For something big I would hire a contractor to do the work. However, if it is a small area you have to dig down a depth,put in gravel, sand, build a form to contain the concrete, mix up the concrete,pour and take out any air pockets,smooth the top surface and add some grooves to prevent cracking.
I would go to Home Depot or Lowes and look at the do-it-yourselfer books that will explain in detail and pictures how to do the job.

March 24, 2010
0

found this helpful
I should also add some terminology. cement is the powder that is mixed with water to make the concrete.
At the big box store you buy the cement in bags that may or may not have the aggregate mixed in the bag. Add water but not to much to make it too soupy and may cause the concrete to fail when it cures.

Joan
Bronze Feedback Medal for All Time! 186 Feedbacks
March 24, 2010
0

found this helpful
Do you plan on mixing your own cement or using redi-mix where a truck comes and pours it for you? I know nothing about mixing your own cement. Depending on the size of the floor you are planning on, you will have to do it in sections.
My now, "ex" and I poured a cement drive way. It was a single car width driveway and about 40 feet long. In order to smooth the cement he fastened two 8ft. long 2x4s together so that they would be long enough for each one of us to hold and use rubbing them back and forth across the cement for what seemed like an awful long time. Before you do the cement you will have to dig out dirt/grass/etc. to the depth that you want the cement. You will also have to build forms as a frame for the cement, that after the cement has dried for quite awhile will be removed. I can't remember how long we left the forms in, but to me it seemed like a long time.
We did our drive way in sections for economic reasons. If you do the cement in sections, you will have to put something that looks like about 1/2 inch thick felt between the sections. My actual recommendation would be to go to the library and look for a book about cement or go to diy.com and see what you can find out. You could even probably google it and find the information that you need.

March 25, 2010
0

found this helpful
Thank all of you is very helpful. Actually is a very small area is about 3 ft long an like 2 ft wide so I hope we can do it our self thanks again.
Answer

this Question

I want to know how to clean the garage floor of my home before I seal the concrete. It was painted over a couple times and has worn through in several places. Sure I could go to Home Depot and buy some expensive floor cleaner but where's the ThriftyFun in that?
Jim from Florida
Answers
By Joyce (Guest Post)
March 7, 2005
0

found this helpful
all i use is bleach on the concrete. it works great on grease marks.put it on with a brush & in a few days it is gone.

March 7, 2005
0

found this helpful
I've used borax, sprinkling it on the floor and rubbing it in with a broom. Sweep it up after 1/2 hour or so and then rinse with water. It cleans and takes any musty smell out of the floor.
Susan from ThriftyFun
By Liz (Guest Post)
October 11, 2008
0

found this helpful
You might want to use tsp it is a powder that you mix with water to clean your walls before painting. You can also use muratic acid.
Liz Az
Answer

this Question
My one week old patio surface is very rough. I was cheated, however, how can I make it smooth now. It is so rough that it is painful if you walk with bare feet on it.
By Sarah
Answers

February 8, 2015
0

found this helpful
Is it concrete? If it is concrete, in some areas, by building code laws, it is supposed to have a brushed (as with a broom) finish. This is so that when it rains, one does not slip and fall. Is this maybe what you are referring to?

August 27, 2016
0

found this helpful
how to i smooth out rough areas on my concrete patio?
Answer

this Question