This is a simple pullover sweater that is made from 4 pieces. Actually the front and back are more like squares and the sleeves are rectangles. There is no complicated shaping for shoulders, etc. The pattern is really simple once you get started, and not complicated, but has a nice appearance.
Approximate Time: So sorry, I never remember to keep track of time.
Supplies:
Any 4 ply yarn will work, but I think a softer yarn will make a more comfortable sweater. This is very important. I wasn't careful about this and was not using a softer yarn, and it worked up a little smaller.
crochet hooks, size E and G
Instructions:
This was a contest sweater in McCall's Needlework and Crafts issue of March/April 1981.
Sizes: Directions for Small size (6-8) body bust size 30 1/2 inch to 31 1/2 inch
Changes for medium size (10-12) body bust size 32 1/2 inch to 34 inch
And for large size (14-16) body bust size 36 inch-38 inch
Sweater Back:
Waistband (worked vertically): Beginning at side edge with size E hook, ch 12 (12 - 13)
Row 1: (right side): Sc in 2nd ch from hook and in each ch across-11 (11- 12) sc. Ch 1, turn.
Row 2: Sc in back lp of each sc across. Ch 1, turn. Repeat row to until 54 (60, 66 ) rows from start, end wrong side.
Pattern: Row 1: (wrong side): Working along side edge of ribbing, sc in edge of each row - 54 (60,66) sc. Ch 1 turn. Change to size G hook.
Row 2: Sc in first sc* dc in next sc, sc in next sc, repeat from* across, end dc in last sc.
Row 3: * Sc in dc, dc in sc, repeat from * across. Repeat row 3 for pat until piece measures 9inch (10 inch, 10 1/2 inch) above ribbing. Check gauge; piece above ribbing should measure 18inch (20inch, 22inch) wide. Mark each side of last row for underarm. Work even until armholes measure 7 1/2 inch (8 - 8 1/2inch) above under arm markers. End of back.
Front:
Work same as for back.
Sleeves: Cuff: Work same as for back waistband for 30 rows.
Pattern: Row 1: Sc in edge of each row-30 (32-32) sc. Ch 1, turn.
Row 2: (2 sc in first sc, sc in next sc) 14 (16-14) times, 2 sc in each of next 2 (0-4) sc.-46 (48-50) sc. Ch 1, turn. Change to size G hook. Beg with pat row 2 (in sweater back pattern), work in pat until piece measures 17inch (17 1/2-18inch) from start. Check gauge; piece above cuff should measure 15 1/3inch (16 - 16 2/3inch) wide End off.
Finishing:
Block pieces; do not block ribbing. Sew 5 inch (5 1/4 inch-5 1/2 inch) at each upper side edge of back and front together for shoulder seams. With sides of sleeves at underarm markers, sew last row of sleeve to armhole edge. Sew side and sleeve seams.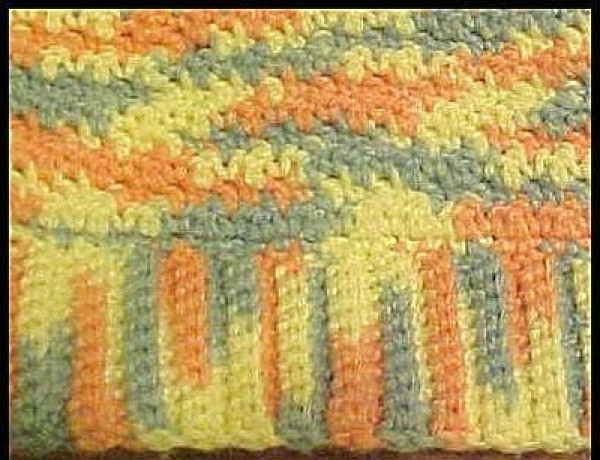 I made this sweater with variegated yarn, since I had enough of this on hand. But the pattern works very nice in solid colors, also. White is especially nice.
If you use red heart yarn, I would adjust the size to be a little larger for a looser fitting. This can be accomplished by making the next size larger, or using hooks of a little larger size. This shows detail of ribbing plus pattern.
By Harlean from Hot Springs, AR