Monique
Bronze Post Medal for All Time! 124 Posts
September 5, 2008
0

found this helpful
Aren't they clever! It is a work of art.
I lightened the picture for you as I couldn't see it too well.
Thanks so much for sharing with us.
Monique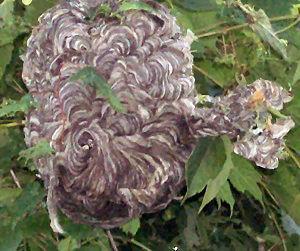 By Julia (Guest Post)
September 5, 2008
0

found this helpful
Thanks Ariela for sharing the picture with us and thanks to
Monique for making it possible for me to see it. It was
so dark that I couldn't appreciate the intricate details
of the perfection of those bees' industry. Truly a work of engineering artistry. Man could learn a lot from
these little guys. :)
Julia in Orlando, FL

September 6, 2008
0

found this helpful
Thanks Monique for lightening this for us!! I didnt have that option in my photo program! It was so hard to tell what this was made of.. looks alot like hair or feathers.. maby animal fur? Who
knows!And that part sticking out to the right looks like an entry way or somthing. The exterminator came and sprayed it but its still hanging there, I guess they wait a certain length of time to make sure its out of use. The size of those bees is unreal !!I If
you notice that opening hole in front there were a couple sittting
there. The day before this there were hundreds.Funny how I walked right under this every day to my car and never saw it.
Again.. thanks for lightening it.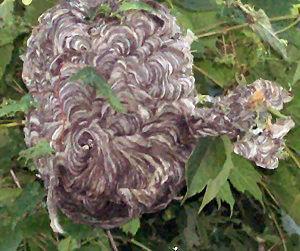 By Barbara Snyder (Guest Post)
September 6, 2008
0

found this helpful
Yes they are are great engineers but the hornets are a pain in the butt we had a lot last year that it was scary and trust me they make their nests anywhere.

September 6, 2008
0

found this helpful
ohh all I know is the pic gave me the creepies
and my skin is crawling!!!
are there any regular bees in there or just
bad hornets? I keep hearing how we are losing
bees and how much the earth needs them...
but gotta go my skin is still crawling
By Diana (Guest Post)
September 8, 2008
0

found this helpful
The nest is just Beautiful! GOD gives even the Hornet a special talent and purpose. Thanks for sharing!
But oh...their stings are painful!

September 8, 2008
0

found this helpful
meoowmom: I don't think these are regular bees. They are huge black and ugly. You can just feel them looking at you. For sure you steer clear. The regular bees at my home don't bother us as long as we don't bother them. We definitely need bees around, but not at my work, they couldn"t take a chance with there being so many etc.
I think these were hornets. My daughter was stung a while back 3 times
by a hornet. Omg it was horrible. I never heard a grown woman scream like that before. We ran to 3 neighbors before finding someone who had baking soda. We made a paste with water and put on it let it dry and kept applying. Heck I never knew my daughter could swear like that.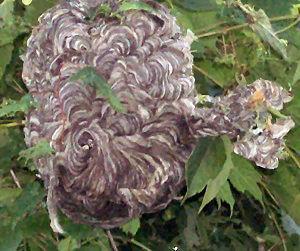 September 11, 2008
0

found this helpful
How neat. Thanks for sharing. Crafty little devils! It almost looks like a flower.
By Lynda (Guest Post)
September 15, 2008
0

found this helpful
Our local zoo has a program which allows any child to bring in things such as this nest to exchange for other interesting finds for science projects, framed diaramas, to study. You might call if you are near one and see if they offer points or would be interested in having the nest rather than just tossing it into the landfill.
God's creation is most interesting, intricate, and well-designed, and children need to be able to safely observe and learn from it all.

Monique
Bronze Post Medal for All Time! 124 Posts
September 22, 2008
0

found this helpful
Hello - you are welcome Ariela.
OFF TOPIC A MINUTE:
If your software doesn't lighten pictures you can try an online editor. No download; just adjust pictures on the site.
Go to adjustments and choose Brightness.
You can find it here: www.pixlr.com/.../
Bee happy:)
Monique