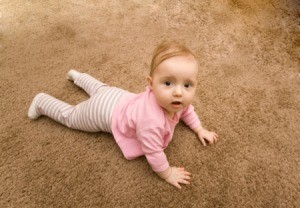 We are going to be moving into a new apartment in the beginning of September. I have a 10 month old who loves to make messes and the new carpets are white. Now, why they put white carpet into apartments, I have no clue. My question is; does anyone have ideas or tips on how to keep the carpet (especially in the dining room area) clean?
Answers

August 10, 2011
0

found this helpful
Best Answer
Similar to the rigid chair mat, you can get an inexpensive tablecloth (I'm thinking about the kind that are flannel on one side and plastic on the other) and lay it down under the seating area. You can shake it out, and toss it in the wash if you need to.
Honestly, we bought a carpet cleaner after we had or daughter. Little drips and accidents were all over the place. I feel like we spent about $150 on ours, but I believe they can be found for less. For us, it was very worthwhile. I also have a can of Resolve around for small random spots (when I don't want to pull out the cleaner).
We put a computer chair mat under our daughter's high chair. It worked pretty well where it covered, but wasn't very large. Those puzzle piece type mats they sell for garage floors might work too.
if you're not set on having your child sit at the table with you, someone posted a tip on here a while back about putting a child size chair and table inside a kiddie pool in the carpeted dining room to keep messes to a minimum. They're probably pretty cheap this time of year and would keep messes very well contained.

Lilac
Silver Feedback Medal for All Time! 450 Feedbacks
August 11, 2011
0

found this helpful
If I were you I would just purchase area rugs, large ones, and put them down over the carpet. I have done that before. Not for the same reason though. Once I had to live in an apartment for three monthys that had bad ratty carpet on the floor.
I couldn't stand it so I bought large area rugs for the living room and bedroom. You could do the same and not worry about ot.

August 12, 2011
0

found this helpful
Along with the other advice, teach your toddler that whenever they eat or drink to sit at a table or high chair. Or they can sit on the floor/ground if the occasion permits. Basically, teach them to be relaxed and sit still while they eat and drink.
Not to sound preachy, but most of the young parents I see today seem to allow their kids to eat and drink while they are in 'motion' in their home. Not only does this make a dirty floor but also choking is more likely to happen.
Sure they will make a mess at the table, but it is confined to that area and the advice given will lesson the cleaning.
Another issue I have is with kids having a drink or food in the car at all times. Unless you are going on a long trip why do they have to have anything in the car? There is always a chance of them choking. And again, the car will get dirty and there will be another area to be cleaned.
PS -- Our dog anxiously waited for the kids to get done at the table so they could do their job of cleaning up on the floor before I tackled the job.
Eating together at a table as a family whenever possible without any interruptions, whether a snack or a meal is more important than some people realize.

August 12, 2011
0

found this helpful
I bought the carpet runners on a roll, with the teeth things on the underside. Several rolls were wide enough and long enough to cover the carpet under our table and chairs when my kids were smaller. Catastrophic milk spills were a problem because the milk could (did) run between the runners, but otherwise, this worked well for me.
As to the "why" of carpeting in apartments - it is less expensive than linoleum and FAR less expensive than laminate flooring.

August 13, 2011
0

found this helpful
The carpet in the dining area is horrible. This is our second house with light carpet where we eat, and we finally invested in a carpet cleaner. My kids sit down to eat and the carpet still gets gross. It's going to happen; all you can do is clean up the messes immediately. A vinyl tablecloth beneath the baby will help.
Answer

this Question