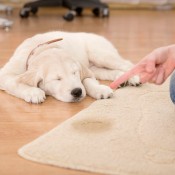 I made my own solution to spray areas where there have been accidents, but without luck when the humidity goes up. It (the smell) just hits you in the face as soon as you come in the door. I have used my carpet cleaner with pet solution by the gallons and still no results.
By Maggie T.
Answers
January 5, 2016
0

found this helpful
Use white vinegar or an oxy type cleaner. The enzamatic action of oxy should do it. I've also heard of hydrogen peroxide working, this also works very well on blood as well

August 15, 2017
1

found this helpful
Vinegar does not work we have tried that we have tried everything and we are getting no results we have cleaned our carpet many times I have done the vinegar and baking soda I have tried to paste baking soda none of it works I have tried a urine defense that didn't work it's to the point now where we have to get rid of our rug

Judy
Gold Post Medal for All Time! 677 Posts
August 15, 2017
2

found this helpful
Nature's Miracle is sold on amazon and in pet stores. It does a great job
September 20, 2017
0

found this helpful
Is it wall to wall carpeting? The smell is probably in the pad and possibly the floori g undermeath. My advice... ODOR MUTE.
It is an excellent product and simple to use. The key is getting contact with all of the smelly bits which meand thoroughly saturating to as deep as the urine soaked. Once you get it all contacted, the smell will no longer emanate from the spot.
If it's been smelley for a long time, you may need to treat upholstry, draperies, walls and anything around that could have gotten stunk up from the lingering reek, if you want the room to not smell bad anymore. GL! J.

December 28, 2017
0

found this helpful
Hi, do you have a link or phone number phone Odor Mute. I'm not having any luck. Thanks

Jess
Silver Post Medal for All Time! 267 Posts
February 16, 2018
0

found this helpful
Here is a link on Amazon for that product.

April 11, 2018
0

found this helpful
But room must be well ventelated will cause respiratory problem. Brought my oxygen levels low

July 11, 2018
0

found this helpful
Nature's Miracle is a waste of money. I'm not even dealing with cat or dog urine. I am dealing with a little boy's urine. I rented a Rug Doctor and used expensive enzyme shampoo, bought two gallons of Nature's Miracle, and I used another whole bottle of a different product.
Not only am I left with a sour stench of urine, I am stuck with an aweful smell eminating from Nature's Miracle. One might think I overdid it with product, but this was over a period of time waiting for drying in between applications. Don't buy this stuff, it is aweful.

August 3, 2018
0

found this helpful
Did u find a solution as im having the same trouble?

November 12, 2018
0

found this helpful
Try regular Gillette shave cream, white foam
Answer

this Question
My carpet does not have stains it has been cleaned twice, but the urine smell keeps coming back.
By Mary

Answers

May 17, 2011
0

found this helpful
Sorry to tell you this, but it may not be your carpet. We just had to tear up all the carpet in our church paronage (not that old) because the urine had penetrated the wood floor beneath. We had to sand and revarnish.
Answer

this Question