What color should I paint my new kitchen? It was covered in old wallpaper, but that problem has been solved!
The walls are primed and now ready for fresh paint. I tried living with it like my husband suggested and that lasted a whole 5 days!
The cabinets are dark oak, countertops are cream. (Just read some posts on Giana laminate countertop paints which would affect my color choices, but that's another adventure for another day!) The floor is light colored vinyl tile. I have decorated with roosters and red and black accents. The entire area is sunken in from the main living and dining areas. The door in breakfast room opens to garage.
I've also included some pics of my old kitchen (which I loved) to give you an idea of my decorating tastes.
It's easy to see what's causing the new dilemma. Also, I thought of painting the table in the breakfast area black. Suggestions?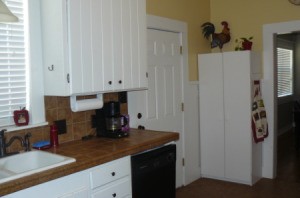 Right now I'm leaning toward a sage or some sort of rustic red. Or maybe both? Red in breakfast room and sage in kitchen? Oh, I almost forgot, the trim is kind of a dark cream. Please help. We're living in limbo right now until I can get it painted and put the kitchen in working order; the kids are tired of sandwiches.
By Jennifer