This is a fun craft to involve the kids in and they can let their imaginations run wild. It is also a great way to use up some of those old spices you don't use anymore.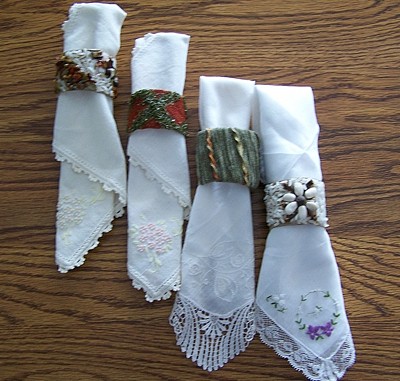 Approximate Time: 30 minutes
Supplies:
cardboard tubes
spices or seeds
tacky glue
craft knife
craft paint and brush
paper towels
yarn optional
Instructions:
Please read through the instructions before you start any pattern.
Cut your cardboard tubes into approximately 1½" lengths.
If you are using large seeds such as beans you might want to paint the tube or plan on sprinkling around the seeds with a ground spice to conceal the tube.
Before I started I poured the seeds I wanted to use, or spices into small bowls.
When using larger items such as beans be sure to use ample glue. Spread your glue over the entire area you are going to cover in small areas at a time so it stays tacky.
To make designs such as the red and green triangles make X patterns with masking tape (I cut my ½" tape in half lengthwise); apply your glue on the bare tube in several places then sprinkle your spice or small seeds on, or you can roll your tube in the seeds. Then, lightly tap the excess off over your container.
If you are using seeds lightly roll your tube on your work surface to secure them into the glue or tap them with your finger.
When you have finished filling all of your spaces remove the tape carefully and apply glue liberally where the tape was and fill in with your other choice of filler.
You will see in the photo below, I simply followed the line the wrap on the tube made with three pieces of tape. I then removed the middle one and used this method for a pattern. It does not come out even this way using 1" tape however. You need to measure around your tube and divide for accurate stripes.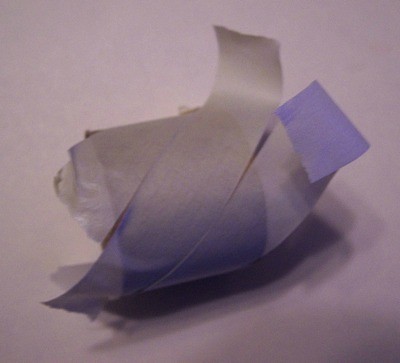 After you get them done spray them several times with a spray varnish to help secure the spices or apply several layers of your tacky glue making sure to cover every seed; they will still be fragile.
Think of the variety you could make, every holiday could be included with the wide array of spices and seeds available to us today. Don't stop with seeds let the kids wrap them in yarns or torn fabric with the raw edges for a country look.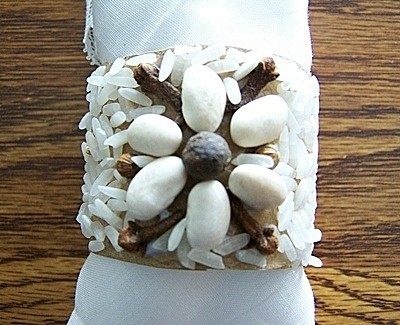 Enjoy!
By Ann Winberg from Loup City, NE