My husband and I live in a 29 foot travel trailer. We recently sold almost all of our possessions and decided to live with less stuff and more happiness.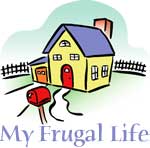 Part of the reason that we now live in a travel trailer is for the opportunity to spend more time with our two beautiful granddaughters; cutting expenses allows us to work part-time thus providing more free time to spend with family and friends.
Like most grandparents we enjoy watching the little faces of our granddaughters light up when given a present. However these two little angels have more "stuff" than any two children should ever own. Their bedroom/playroom could rival a "Toys R Us" store. They also have more clothing than they will be able to wear before the items are out grown.
Watching them at Christmas becomes almost painful, they actually get physically and emotionally drained from having to open too many presents. Needless to say their expectations have grown to meet the over abundance of gifts. It is hard to appreciate anything when you are given everything.
Well Grandpa and I have decided to limit our gift giving of today to possibly make a better future for these two girls. We will buy only two small toys (token gifts) and place the rest of the gift money for Christmas and Birthdays in a Trust Fund account for each child. As our income is minimal, we must be very careful with our purchases to allow us to have enough left in the budget to actually put money in the Trust. And, if we can get their parents permission, we would like to teach our granddaughters the blessing of giving. We want to ask them to choose one toy that they receive and give it to another child or organization that helps families in need.
As grandparents we are choosing to influence their character rather than contribute to their greed. We want our granddaughters to be measured by who they are and not by what they possess.
Living a blessed life.
By Lillie from Laurel, MT
Do you have a frugal story to share with the ThriftyFun community? Submit your essay here: http://www.thriftyfun.com/post_myfrugallife.ldml