October 18, 2007
0

found this helpful
2 of my favorite craft ides for christmas I found right here! They'd make decent raffle items too I think without spending much. If you can get the fleece on sale for the blankets, and the cups at the thrift or dollar store, it's pretty decent.
www.thriftyfun.com/tf98170615.tip.html

October 18, 2007
0

found this helpful
They could drill a lot of holes in a pine square to make a trivet. Boys love drilling!

October 18, 2007
0

found this helpful
1. Regarding the raffle. You don't say where you are, but here in Chicago I've done tons of stuff. Everything from asking the parents to bring in 1 item to raffle off, to cash prizes. Try to get as many people as you can hounding for raffle items and see what sells. One year at a local benefit the hot item was sock monkeys, another it was bath spa kits. You never really know what's going to be the big hit. (one tip - get some women involved in the project - they always have something to contribute to the ideas process when it comes to getting stuff other women would want).
The easiest one I can think of is going with Restaurant.com gift certificates or Dining Dough. They cost a few dollars for a $10 or $25 gift certificate that people can use at restaurants with a few restrictions (varies by restaurant). Here in Chicago there's tons of places that take them, but I recommend looking first. Minneapolis, for example, has hardly any listed restaurants.
2. Regarding easy Xmas crafts, what about a soap set? Soap is easy to make and can be very simply customized (look for a Melt and Pour base at craft stores for the super easy). Plus it looks pretty darn cool the way it oozes and bubbles.
The other idea that went over very well when I did Girl Scouts was decorating small pots (like the tiny ones about the diameter of a pop can), and then planting a small amount of herbs in them. The parents seemed to really appreciate it! :-)
Otherwise, making something like a scrapbook page the kids can frame is also a cute idea. You can get cheap frames at the dollar store, and all you'd need other than that are glue, scissors and base paper. For embellishments just grab small, flat stuff from around the house - old movie tickets, raffle tickets, business cards, comics, newspaper articles, pictures printed off the internet, bits of yarn and string, leaves, post-its, etc. Then all the kids have to bring is pictures.
Good luck!

October 18, 2007
0

found this helpful
Could you raffle off the services of your Cub group, like personalized car washing services, or lawn raking, or dog bathing or walking? Something they could do as a service to the winner?
As far as craft ideas go, Oriental Trading,
http://www.orientaltrading.com
has some great ideas. They sell craft kits, but if those are too costly, you could use their ideas and use your own supplies. Then again, some of the stuff on sale or clearance is pretty darn cheap, and you can usually find a discount coupon for them online at either couponcabin.com or couponmountain.com
I just checked and they have a cute Marshmallow Angel Magnet Craft Kit on clearance, 1.99. Makes 12.
tinyurl.com/37f4nt
They have a bunch of other stuff on sale too, and IIRC, one of the coupon sites has an online coupon for free shipping good through the end of the week.
By Bonnie from Oklahoma (Guest Post)
October 18, 2007
0

found this helpful
This is what we did one year. Lunch bag scrapbooks. Take about 4 brown lunch bags and fold them in half alternating them. Put them together and either sew them down the front edge or take a hole punch down the sides say about 6 holes. add several types of ribbon to the holes. Then you can add your scrapbook paper to the pages and even make tag inserts or add different things to the openings that are already there. The best glue for this project is UNU STICK GLUE. Decorate the front just as if you were decorating a scrapbook but only mini. We ended using pictures of our kids throughout the book from pictures that were taking throughout the year..I will upload a picture in a little bit. You can always email me and I will send out a picture or two that way.
I made one of these lunch bag scrapbooks filled with Marines for my mother in law. She loved it and also that it was a great idea. If you wanted to, the leaders can get the bags together with the ribbon (they have tons of $1 ribbon at Michaels) and decorate the front page to make it easier and faster. The boys can do the rest by putting the pictures in and or the writing. Here are some examples. I hope you do them, maybe you can show me what you come up with. This is just a general idea on what to do with them. Enjoy! I forgot to mention, the end of the bag will need to be stapled on the sides in order for the inserts to stay enclosed. Some reason, this isnt letting me upload more pictures. You can email me at bcdd4ofusatyahoodotcom
Bonnie Hackney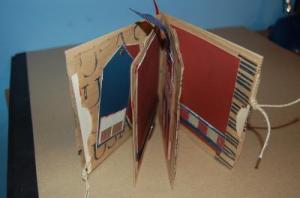 By rae (Guest Post)
October 18, 2007
0

found this helpful
You could organise some hampers eg christmas, gardening etc and ask parents to donate items. Then people buy tickets for the hamper. Not sure if you do this in the US but in Australia Sausage Sizzles are big money winners. You will need to bulk buy sausages, buns, onions, sauces etc. Most companies will be happy to donate or give you a discounted price if you tell them what you are raising money for. You can also sell drinks. You will need several BBQ's. Here they sell a sausage in a bun for $2 or $3 and add an extra 50cents or $1 for a drink. Some of the shopping malls and hardware stores are happy for community groups to set up stalls at the front of their stores. This is easy. The secret is to have your sausages cooking before you open the stall so that when people start smelling the sausages cooking you have some already done.
Good luck - don't forget the napkins,