August 16, 2007
0

found this helpful
When I workded at a Dr.'s office he had one of the exam rooms repapered which had vinyl paper on it already. The paper hanger said that he was using a special paste made for papering over vinyl paper. Might want to ask at the home improvement store.
August 16, 2007
0

found this helpful
I'm always threatening to do this with all the pizza flyers I get and my kitchen walls! First off, I would remove any leftover adhesive from the contact paper by scrubbing with really hot water and lots of cloths or perhaps a solvent of some sort like Goo Gone would work better. Anyway, sand the walls throughly. Prime coat the walls if you think you'd like some white space.Using wallpaper paste or decoupage medium, apply maps, vacation brochures, travel posters in whatever fashion you like.
It will probably require a lot of them, so get friends and family to collect too. Even the travel section from the large newspapers would work. Overlap the edges and make sure they are thoroughly stuck down. When done, varnish with a non-oil based varnish, sanding between coats. I would do at least two. Then of course, pizza and fast food flyers would be good for the kitchen/dining area. ;]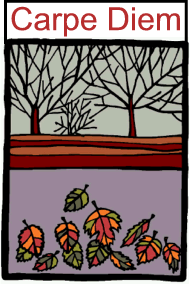 August 16, 2007
0

found this helpful
Is the vinyl paper really hideous? It lasts forever, you know & is easy to maintain - All you have to do it glue the edges that roll up -
October 15, 2007
0

found this helpful
Just wanted to let those who offered advice on papering a camper that I have now finished and it looks great! I stripped the paper/vinyl off the walls, which left a sticky residue, used a super vinyl to vinyl paste and it did great. Now I do have to say, that if you choose to do this...do not get between the paper and the sticky residue....you may find yourself attached to the walls!
The vinyl paste and the residue REALLY bond! So far, so good, I guess the true test will be to see if it is still there in the spring after being exposed to the cold.