Our 2-bedroom apartment is quite unusual. Other tenants usually have their living rooms furnished with a couch, chair, end tables, and lamps. As you walk into our unit, it looks more like a fitness center. My husband has had asthma for many years and he has to regularly exercise so that he can breath and maintain his weight.
We had the weight bench and dumbbells ever since we lived in our 3 bedroom home. We sold our house in 2008, had our antique furniture appraised, then was picked up by a delivery truck and sent to an auction house. Sure we had to take a loss, but we got rid of most of the furniture so that we could relocate.
Since we've lived in the apartment we bought the new treadmill and exercise bike from a fitness equipment store. This might not be a frugal idea for most, since we bought new and not used equipment. But in the long run I believe its paid off, since we don't have to pay for two yearly memberships at a fitness center. We also save time and gas, since we don't have to commute. How many times have you driven all the way to the fitness center and find that all the treadmills are being occupied. We both workout extremely hard to maintain our weight.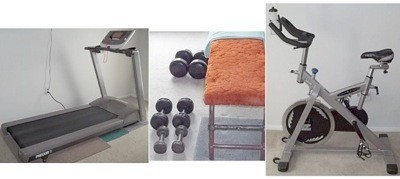 By Marjorie from Lewiston, NY