July 28, 2008
0

found this helpful
Huskies eating changes in warmer weather. They aren't big eaters in any weather, I feed mine canned sardines as a treat when she is slow to eat. They won't starve and will eat as they get hungry. Mine seems to get very slim each summer but fills out again as the weather cools. Seems to follow her massive shedding patterns. She is almost white in the summer and resembles a coyote, and is red and white in the winter, and beautiful. Watch out for the desire to run, mine is always leashed or penned.
BobDog
By nasle (Guest Post)
July 28, 2008
0

found this helpful
Certainly the hot weather makes them eat less. My dog used to do that. He was a mix breed with lots of hair. You can try to shave them. It used to help my dog a lot and keep them inside.
July 28, 2008
0

found this helpful
take him the vets and get his teeth and gums checked out it could be something is painful for him to eat anything such as gingivitis, his teeth might need cleaning or antibiotcs
By Grandma J (Guest Post)
July 28, 2008
0

found this helpful
Just make sure your dog has plenty of water, fill an outdoor small pool, enough shade, etc. As long as the dog eats daily, don't worry. The heat puts all of us off when it comes to eating. We prefer cool, light menus. (HAHA). My dog switches to eating from the garden more in the summer heat.
Lettuce, spinach, string beans, peas, carrots. Watch your basket when bringing them in freshly picked! They will be captured and gone! By the way, Allie is a German Shorthair--who is not beyond stealing the yogert and watermelon as well.
July 28, 2008
0

found this helpful
First they eat, then they grow. Possibly he's taking a break from growing for a few weeks. If his ribs aren't suddenly starting to show and he eats an appropriate amount of food by the end of the day, then I wouldn't worry.
Is there anything you can do to keep him cool? Daily brushing, a floor fan, a small wading plastic pool with old frisbees, cool whip tubs and empty propel bottles might entice him to hop on in and cool off.
July 28, 2008
0

found this helpful
PS Forgot to mention how cute he is!
July 29, 2008
0

found this helpful
Just take him to the vet to be sure all is ok. He could have an infected tooth, an illness, or just less of an appetite due to age, climate, etc.
Best to know for sure. He's beautiful and far too precious to take a chance. Get the advice of the vet.
By KELLEY FROM OHIO (Guest Post)
July 29, 2008
0

found this helpful
Heat will definitely change a dogs eating habits, especially really hot weather. Also it could just be your dog maturing. As they get older they learn that they don't have to eat it all at once. They learn it will be there when they are hungry and they will eat only at that time. Unless you are seeing a big weight loss or sickness i wouldn't worry about it.
August 2, 2008
0

found this helpful
first order of the day is a vet check, if all is clear, then he is being picky.
What are your feeding?
I recommend a high quaility food if you feel the need to feed manufactured foods.
if your open to the idea I recommend prey model raw diet or home cooked.
You can find lots of info on my blog
flip195.wordpress.com/.../
By Barbara J Snyder (Guest Post)
August 3, 2008
0

found this helpful
Princey my dog (is a girl) when I get a chance will show you her. Anyway she is hairy so spent 40 dollars and went to the Animal Rescue League and they shaved her and did her nails and also gave her a good bath. Since it is hot out and she would not eat in the morning I just fed her in the evening and if she wasn't hungry just left it and she would finish it when we went to bed also gave her a lot of ice cubes to chew on and have the ac on for her too, Hey her and I both can't stand the heat and my daughter too. She goes out to play in the evening too.
August 13, 2008
0

found this helpful
Your dog is so cute. I have a husky mix that has ears just like him! I wish we could live food out for our husky. She is about 7 month old too. She eats up her food so fast that we can't leave it out but at our local dog park, there are two pure breed huskies and they leave food out for them all day.
They eat when they are hungary and stop when they are full. Bella, my dog, was found on the streets and had to basically hunt for food so she will just keep on eating. Once, I fed her and then my dad fed her, I wouldn't be too worried, but if you are, ask a vet. My sister has a pure breed German Shephard and they leave her food out all day too.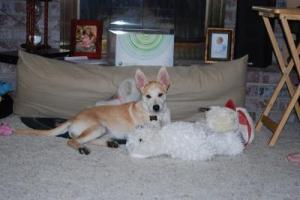 By Fran (Guest Post)
November 20, 2008
0

found this helpful
My dog keeps eating and eating. She is not getting full, always hungry. Should I be concerned?
January 12, 2009
0

found this helpful
Okay, I wrote a few months ago about my dog having the same problem. In October, we got a new puppy. I thought my dogs eating habits would get worse because she would feel like she is competing for the food but it has been the complete oppisite! We first gave them 2 seperate dishes and watched them closely as they ate but they alwasy wanted to eat out of the same dish. I noticed that now, there is always food left over. It is kinda nice that we can just leave food out for them all the time now!
I bet that getting the new kitten had the same affect on your dog as getting a sister for my dog had that affect on her!