Wait! Don't throw away the stockings with the runs in them. Hold on to those socks that allow your big toe to peek out and shout "hello". These seemingly useless articles can add a touch of elegant décor to your home. Please don't hang them on the lampshade. Here's a better idea.
Supplies:
10"x10" squares of fabric (to match your décor)
sewing machine or needle and thread
notions (lace, trim, buttons, charms, etc.)
clean, used hose and socks
scissors
Directions:
Place two squares of 10"x10" fabric together and sew seams on three sides. The fabric should be wrong side out when you sew it. If you have some bulky socks in your used hose and socks collection, cut them into strips. Clip the corners of the fabric diagonally, to the seam, then turn the pillow case right side out. Use a pencil or crochet needle to press the corners out fully.
Stuff the pillow with used socks and hose until it is bulging. The stuffing will settle, so fill the pillow as much as possible. Turn inward 1/2" of the fabric on the open end, then stitch the pillowcase closed. Sew notions onto the finished pillow for embellishment. These small pillows add a designer touch to sofas, chairs, beds, benches, and even outdoor furniture. And they're classier than a pair of nylons hanging from the lampshade.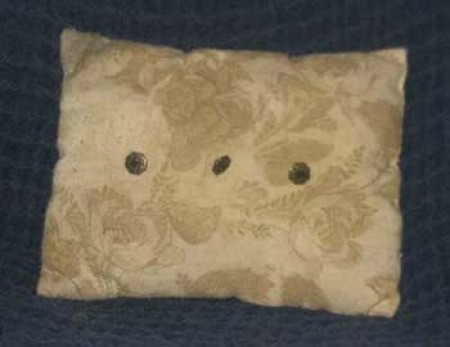 About The Author: Shauna Smith Duty is a freelance writer with a penache for writing family and parenting articles. She composes articles for both print and web publications, reviews children's books and movies, writes short plays, and provides editing services. Visit her online at http://www.shaunasmithduty.com
Add your voice! Click below to comment. ThriftyFun is powered by your wisdom!

July 27, 2005
0

found this helpful
Shauna, I think hosery makes the best pillow stuffing, I cut mine in loops to make it stay loffty.
I like to cut the stiched on waist band, off of panty hose, keep it in a loop, to use as a great big rubber band! Works great for putting around fabric, when you are working with yards of it. Use when ever you need a great big rubber band. Try it, it's free!! from Washington state
Add your voice! Click below to comment. ThriftyFun is powered by your wisdom!