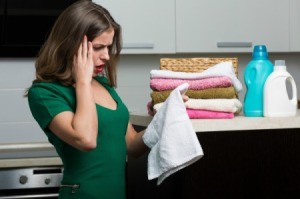 When my wife washes my t-shirts they come out with stains on them. The stain looks like a light kind of round oil stain. We can't figure out where these stains are coming from. They are on my white and colored t-shirts. All of them go in clean and come out stained. We even got a new washing machine.
By luke from Anaheim, CA
Answers

Marjorie
Silver Feedback Medal for All Time! 290 Feedbacks
November 15, 2010
0

found this helpful
Since you have a new washing machine, it might still be under warranty. Call the store where you bought it and explain the problem that you're having. They just might send someone over to take a look at it and fix the problem.

November 23, 2010
0

found this helpful
Maybe it's something in the dryer. Try checking it every time before you throw the clothes in. I say this because I had a tiny puddle that appeared in the bottom of the drum during humid weather. I noticed it before anything happened but would have had mystery stains, too, if I hadn't accidentally seen it.

June 29, 2013
0

found this helpful
I stopped having this problem when I stopped using dryer sheets. Not sure if it a coincidence.

November 27, 2014
3

found this helpful
It's your drier sheets :( Boohoo! Idk if you know, drier sheets are full of nasty toxins. Use white vinegar in your final rinse. The smell will be gone when the clothes are dry and will still smell good, like your soap.
Way cheaper! I rarely use products from the store, the Internet is full of much safer diy 'recipes' that you'll be pleasantly suprised work As well or better, and cost substantially less :)

July 26, 2016
0

found this helpful
How do you get the dryer sheet stains out?
October 27, 2018
1

found this helpful
I do not use dryer sheets and I still have oil stains

November 10, 2018
0

found this helpful
Easy fix - same problem with all LG machines. Replace the drain pump! Take it apart and youll see the gaskets on it failed

November 15, 2018
0

found this helpful
Same here. No drier sheets, but still have these stains. Anyone know why?
Answer

this Question
I have a Maytag Neptune front-loading washer that is about 4 years old. In the past 2 years, I've noticed greasy/oily looking spots on some of the darker colored clothes coming out.
Anyone else have the same problem?
Read More...