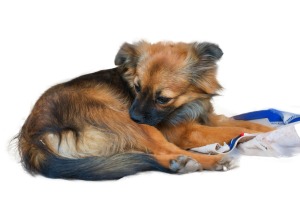 My miniature schnauzer has dry, crusty patches on her skin on her back and stomach. She has been treated for a bacterial infection for 4 weeks. She has been off the meds for 2 weeks and they are coming back. Does anyone know why this is happening?
Kathy from Tarpon Springs, FL
Answers

December 9, 2008
0

found this helpful
Best Answer
My dog has had a similar problem with her skin getting better then worse. She was also checked and treated for a fungal infection (such as ringworm). If you vet hasn't checked for fungal causes you might want to ask for an evaluation for fungal causes. We still do not have answers and are taking our dog to a vet dermatologist for evaluation. Her problem is on her back and head.
By Mary C. (Guest Post)
December 12, 2008
5

found this helpful
Best Answer
I had good results with an item from Drs Foster & Smith. It is a softgel supplement with fish oil etc. Had a border collie with terrible sores on his back and an awful odor. Cleared it up and his coat just shined!
Best Answer
Before going to the vet, maybe take the dog to a groomer and ask what they think it might be. If your dog goes to one they might be able to answer. They work with dogs all day. Mine told me what to do for my dogs ears and his hot spots. I used a women's vinegar and water douche. Cleared him up. Just pour some on a cotton ball and put on spot. Or wash the pet and pour a solution over him just before towel drying. My sister-in-laws dog had ring worm and mange and used this.
2 cups (16 oz.) hydrogen peroxide 3%
4 cups (32 oz.) water
8 tablespoons or so of Borax powder
Combine them all in a bucket and stir it up until the Borax is completely dissolved. I use pretty warm, even hot water so that it is still warm after adding the room temperature peroxide and mixing it for a while. Pour it over the dog into the washtub with the plug in the drain, and then use an old washcloth to soak him all over with the solution in the washtub (I make sure the red areas are real soaked with it).
Don't rinse it off. It would probably be okay to towel dry a little, maybe blow dry first if you can. As long as the solution stays on the skin so it can keep working. Use old towels and maybe wear an old shirt so the peroxide won't take the color out. I did this every couple of days at first until he started clearing up, and I'm going to keep doing it every couple weeks in hopes that it won't come back!
It's very easy and so cheap! Hopefully it will help.

August 13, 2015
1

found this helpful
Best Answer
Everyone seems to say their dog has hot spots! Totally different than dry skin. Hot spots are raised with fluid and are actually warmer to the touch than the rest of the dogs skin. Check out what hot spots actually look like online.
See your vet because there are many other dog skin disorders. My groomer told me my dog had hot spots which I knew he didnt. My dog had a yeast infection inside his body that caused dry itchy spots that would cause the fur around the dry spot to fall out. Dont take advice from anyone else but your vet or someone who owns a dog that had the exact same issue and they can see your dogs rash or dry skin.
December 24, 2015
0

found this helpful
Best Answer
Exactly. It's not hot spots. My schnauzer has it on her side on each side of her front shoulder. And it's not just a little dandruff it's big flakes of dry skin and it feels rough.
It is NOT hot spots
Answer

this Question

My dog has had very dry white patches on his back legs for the last 6 months. They are progressively growing and today after playing, the biggest patch started to bleed. My dog has been taking Bravecto every 3 months since the patches appeared.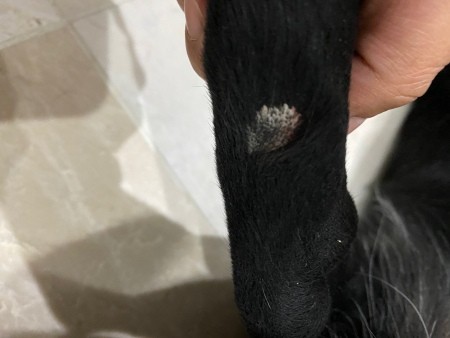 I saw the vet one week ago because his paws where sore and he treated that using an anti inflammatory and penicillin efficiently. I asked about the patches and he said it was nothing, but if I was concerned he would do a biopsy! It is inflamed and sore.
I need some advice please!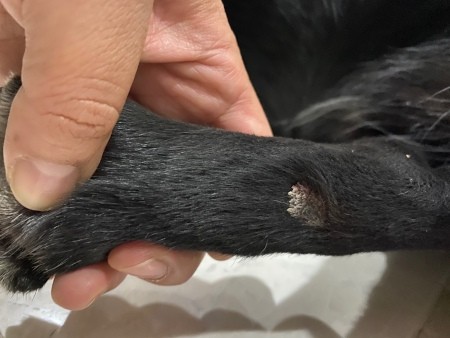 Answers

May 22, 2020
0

found this helpful
Best Answer
I believe you could put some coconut oil or olive oil (or fresh aloe vera gel if you have it) on the patches until you can see the vet. Both of these are natural and will not harm your dog if he licks it off but try to distract him (maybe feeding time?) until they have been on for a few minutes.
Maybe your vet can take another look now that they have started to bleed after playing as this indicates it may be more than just a dry patch.
If your local Pet Smart is open you might take your dog 'shopping' and let their vet technician take a look as they are well trained and may have some ideas. Call before your visit to make sure someone will be there. They do not charge for this.

poehere
Bronze Post Medal for All Time! 105 Posts
May 22, 2020
0

found this helpful
Best Answer
A lot of times this is from the dog licking an area or even where the dog sleeps. I do see some of these types of patches on the back of my dogs legs but I consider them normal because all of my outdoor dogs seem to have them.
I usually put some fresh coconut oil on the area to keep them moist so they don't crack open and bleed.
Answer

this Question