May 14, 2010
0

found this helpful
Best Answer
Try Zep Brand Tub and Shower. It is available at Home Depot and is very inexpensive. Often the soap scum is actually on a layer of mineral deposits. If they don't have a water softener it probably is minerals.
What you need is an acid. Vinegar with some baking soda also works well. If you clean this house every week keep at it with the vinegar or Zep and it will cut thru.
If and when you get it clean you can wipe on Armour-All. It makes the glass look better and helps prevent build up. I cleaned apartments and when someone has lived in an apartment for a long time and never cleaned...some times we scraped it off. Fiberglass showers and glass doors were easier to clean down the road when the apt. would turn over again. We kept a log to check our results.
However, it the glass is scored by the minerals and harsh things people try to use to clean with you are S.O.L.
October 29, 2010
0

found this helpful
Best Answer
The thing with blades and scrapers is to keep the blades at a 45 degree angle, no more or less, and never scrape with a dry surface. Always keep the glass wet while scraping, this will keep the blade from scratching. I used this while doing all my construction cleaning--cleaning homes and businesses after the contractors are all done. Good luck.
October 29, 2010
0

found this helpful
Best Answer
I have used liquid fabric softener.
November 9, 2010
0

found this helpful
Best Answer
Use Mineral Spirits (aka White Spirits aka Paint Thinners). Like magic, it dissolves the scum the instant it touches it.
October 27, 2010
0

found this helpful
Have you tried a razor scraper, just to test it? If you can scrape down to clear glass, it is probably just a lot of accumulation. If you are comfortable with the scraper, you can get a lot off with that--just take care around the seal between the glass and the frame. I like the magic erasers for the remnants.
You can also try straight "lime away". Wear a glove, and be sure to protect other surfaces, as warned on the bottle. Make sure you have a lot of ventilation.
If you are sure the doors are glass (as opposed to plexiglas or plastic), you might also try fine steel wool. (I know someone will tell us if there is a good reason not to.) Once you get it clean, Make sure you keep it that way, don't let it build up again!
October 27, 2010
0

found this helpful
Hi, I have an Idea, I am from OH but, Dollar General here has what is called: La's Totally Awesome. I am almost sure that if you spray that on and let it set for a few minutes, then scrub with a scrub brush and rinse it would come of...
IT works on lots of other stuff. Hope this Helps!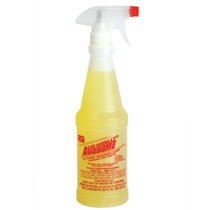 October 28, 2010
0

found this helpful
Ok so far you've gotten one good idea and one totally bad one. Don't try scraping your glass shower doors. All you'll end up with is a lot of scratches on your doors which will look worse than the white film! Plus you run the risk of breaking the doors too. The Totally Awesome stuff from Dollar General is some great stuff. I use it in my house all the time. But for what you're needing it for right now I don't believe it'd do the trick. So here's my suggestion. I did this when my own shower doors became covered with the same white film and I couldn't get it off.
First thing, I went to the dollar store and got several bottles of white vinegar. Then I took the doors off and took them outside (in the shade if possible, but no shade for me) I laid out towels to cover each of the whole doors (frames and all) and proceeded to pour vinegar over them. I let it sit till it almost dried, then poured some more. I did this over and over till they had been sitting in vinegar for at least 2 hours. You can check periodically by taking a piece of the towel and wiping to see if the film is starting to come off. When it wipes off pretty good with the towel, it's time to remove the towels and rinse them with the water hose.
Then I took a generic brand of Soft Scrub and one of those green scrubby pads (I found one on an extension wand at Wal Mart that works great and I don't have to bend down!) and scrubbed away. They came out sparkling! Once I got them clean and rehung, I put some vinegar in a spray bottle and once a week I spray them down and then scrub them lightly with the Soft Scrub. They've stayed clear ever since and this was last summer!
By the way, it sounds like this is a lot of work to do all this, but it's really a whole lot easier than it sounds. I did it by myself and other than the sitting time for the vinegar, it only took a few minutes.
October 28, 2010
0

found this helpful
In the past I have worked for and later owned a janitor service. A single-edged razor blade is what we always used to remove dried paint or other stubborn substances from glass. If the shower door is made of clear, flat glass, if you don't go totally ballistic with the razor blade, it should do the trick without scratching.
October 29, 2010
0

found this helpful
I agree with the LA Totally Awesome from the Dollar store - it's an incredible product. However, I would use The Works for Showers for the initial cleaning. We live in the country with hard well water and it will clean up everything without harming the surface.
October 29, 2010
0

found this helpful
At Dollar Tree they have "mist and go", a daily shower spray. I have tried the expensive ones but they do not work as well as this one does. Spray it every day for a week, it should wipe off then.
October 29, 2010
0

found this helpful
The best product I've used to clean shower doors was WD-40. Make sure the room is well ventilated with open bathroom door and windows and a fan. Just spray it on and wipe it off. You may want to dedicate a magic eraser if its really bad. Afterwards, wash off with any bathroom cleaner or just pain vinegar. Another helpful hint is to add baking soda to the vinegar to make a paste for a home-aid "soft scrub" product.
October 29, 2010
0

found this helpful
Are you sure it really is build up? The reason I ask is, I had one of my renters ruin a shower door because they thought it was buildup, but it was actually a opaque white glass door. They scrapped it off and when the entire white film finally started to lift in one piece they realized what they had done and called me. Some doors have it on there for privacy reasons.
October 29, 2010
0

found this helpful
I used a razor blade on the glass and the soap came off. Do it dry.
October 29, 2010
0

found this helpful
I encountered the same problem. I used oven cleaner on the doors and it removed the film completely.