Basic Dog Training Tips
Training your dog can be a long and sometimes complicated process, but there are some basic things that you should keep in mind.
Before you start to teach your dog a new trick, make sure "you" understand what you want him to do. Let's say you are teaching him to sit. Do you want him to respond to a verbal command? A hand signal? Both?
Repetition is key. Like the old saying goes, practice makes perfect.
Consistency is ultra-important. You need to ask for the trick the same way every single time. If you are using a verbal command, say it the same way every time. If you are using a hand signal, make the gesture the same way every time.
Your voice and gestures need to be clear and firm.
Positive reinforcement always works better than punishing errors.
Don't reward bad behaviors. If your dog doesn't do the trick you want when you ask, he doesn't get the treat. End of story!
Dogs are eager to please. They want to do what is going to make you happy (and make you give them the treat!)
Dogs aren't stupid. If he understands what you want, he will do it.
Dogs aren't mind readers. If you are teaching a dog to sit, it may help for him to see another dog sit on command, or have you push down gently but firmly on his rump while saying "sit". (Or whatever phrase you choose.)
Dogs, like people, learn at different rates. Some breeds are known for being quick learners; some breeds are not as quick.
Teach and practice tricks when your dog is alert! Just after a meal or late at night, he will be tired and sluggish and not as interested in what you're asking.
Keep the lessons short. If your dog starts to get bored, he's going to stop paying attention and then you're both going to get frustrated.
End lessons on a positive note. The last thing you should ask for during a lesson is a trick that your dog knows and performs well.
Whether you are teaching your dog the basics (sit, stay, and heel) or more complicated tricks, it's a great way for you and your pup to bond.
By Catherine Forman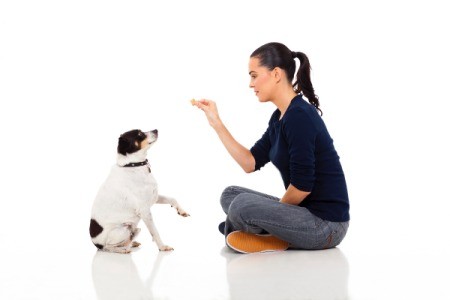 Add your voice! Click below to comment. ThriftyFun is powered by your wisdom!
By guest (Guest Post)
March 25, 2006
0

found this helpful
Just another suggestion for teaching the "sit" (#9). Instead of pushing, even gently, on the dog's hips, touch him under the chin and gently lift as you give the command. The minute his bum touchs the ground praise, praise, praise.
March 25, 2006
0

found this helpful
any tips on a LOUD barking Yorkie? He is so adorable loving and sweet but late nights
he goes out to pee and then BARKS at the top
of his lungs, I am afraid he will wake next door
neighbors as it is pretty late when we go to bed.
Also if he is alone in a room, my husb in bed me
in office room Oso/Yorkie will go sleep in living room
then wake to bark LOUD scaring me. He just got 'fixed' he did not spend night at vets he loves to board with his Cookie/Jack Russell so whats up with the bark?
thanx
June 7, 2015
0

found this helpful
Little dogs bark as they seem to have very Great hearing. A good trick to try an stop is put a couple pennies in a can and when starts to bark "SHAKE the can or Throw the can, trying not to let dog see you doing it. It will distract and course say "QUIET".
I have 2 Lhasa Apso's that Bark as well and do exactly as you explain at night and I too don't wanna wake up the neighbors, but since using this training technic, I've almost gotten a handle on it. And most Lil dogs bark anyway as soon have Large dog complexes, haha. Hope it works for you like it is for me.
Add your voice! Click below to comment. ThriftyFun is powered by your wisdom!
Related Content
In This Guide
Categories
Guides
More
Categories