January 2, 2008
0

found this helpful
Make sure that he isn't hungry. Try dry kitten food, then canned kitten food. Play with him, like chasing a string see if you can make him tired. You can just hold him and see if that will comfort him. Try finding a small box he can hide in or a warm towel.
January 2, 2008
0

found this helpful
Put a mirror in his bed or prop it against the wall at floor level so he can look at himself. He will think it's another cat. Or wrap a wind-up alarm clock in a blanket so he can lay on top of it. It reminds them of their mother's heartbeat. I've had success with both of these to calm kittens and puppies.
January 4, 2008
0

found this helpful
When we found our baby, stray kitty she did this for several months. And although she does it less as a 2yr old, she is still a very vocal cat. I'd say that if you try all the other suggestions (make sure she's not hungry, thirsty, and her litter box is clean) then she probably just wants some good old-fashioned love. Sometimes my cats meow just becuase they want some attention. Also, my very vocal cat will start to do that more when she wants to play and have some entertainment. I think cats are similar to humans in that human babies will cry a lot to communicate. Adults will do that less...we can just talk. I think young cats are more vocal and she might just grow out of it. In the meantime, just keep playing with her and loving her! Please don't give up on her :)
January 4, 2008
0

found this helpful
Is it a Siamese per chance? I think they talk just to hear their own voices! I have a nine month old half Siamese kitten. As he gets older, he has gotten quieter.
By guest (Guest Post)
January 4, 2008
0

found this helpful
The kitten is very young...8 weeks old and I think the lady above is correct. My abby was looking for his mother and meowing at that age. Do try clock and also a hot water bottle in a small circular bed with high sides so it can snuggle down into it and feel secure. Also give him lots of attention.
January 4, 2008
0

found this helpful
Please take this baby to your Vet. There might be a medical condition which could be easily fixed. Please do not let him suffer if this is the case.
Jennifer
Northern Virginia
By guest (Guest Post)
January 4, 2008
0

found this helpful
I have heard that cats meow when they are lonely/ frightened or just needing some attention. I would say that your little one is just lonely. Do the suggestions the others have written to you.
We had a cat that was very, very vocal and loud...He was a stray when we got him but now 7 years later he is not nearly as vocal as he used to be, I think he realizes that he is a keeper!
January 7, 2008
0

found this helpful
My cat is 10 1/2 years old,..and she still hasn't stopped meowing! Sometimes that is just the cat's personality, and you have to live with it. Just like some humans talk to much. So..I have fun with her and talk back....we have many conversations! LOL
Here is a pic of her talking...LOL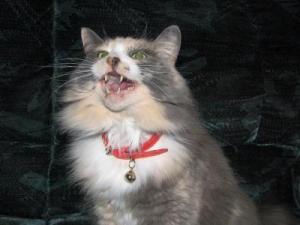 January 8, 2008
0

found this helpful
the clock and warm water bottle work wonders also
you might add a tshirt with your scent to make
it really feel secure
kitty is just a baby and missing mommy and other kits
good luck