I'm an old lady now, but I guess my upbringing is what led me to always be inventive and saving. Dollar bills did not multiply without a lot of making do and doing without!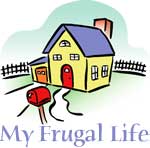 I had two children and stayed off the job market until the youngest was in Junior High School. I figured raising my kids might not pay, but it was something I needed to do.
I did alterations and dressmaking at home, ran a summertime campers' needs shop and learned to make my house a homey 'home' at little cost. I taught myself to sew, to make drapes and other household things. One pair of drapes that began in our living room, with many windows, later had their 'turns' in other rooms (one as a round tablecloth and matching sofa pillow covers), as they all began to wear out. My mantra became "Everything doesn't HAVE to be perfect" as I learned to wallpaper and lay inexpensive vinyl and carpet tiles.
My saving habits are paying off in my old age. I have no desire to keep up with "the Jones'" and am writing and marketing columns concerning cooking, decorating and nostalgia for a bit of what our great grandmothers called pin money! Life as I've lived it has taught me that stretching dollars and being inventive is easily as much fun as tossing hard-earned money to the wind!
Janet from Conway, NH
Do you have a frugal story to share with the ThriftyFun community? Submit your essay here: http://www.thriftyfun.com/post_myfrugallife.ldml