At Vacation Bible School, you've always got tons of artwork that needs to dry. Ours is a sea theme this year. We're letting the kids create this ocean backdrop the first day in craft class to use all week. I used newsprint to be more environmentally friendly, but a blue paper party tablecloth would also work, or blue fabric, old sheet, whatever.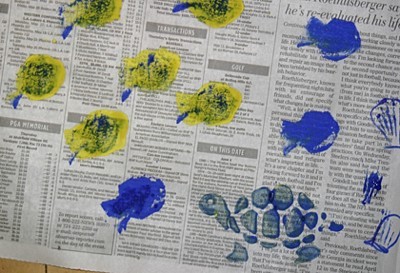 Approximate Time: 20-30 minutes
Supplies:
newspapers, paper tablecloth, fabric,sheet, etc.
tempra (washable) paints
brushes
various items to stamp with: shells, cookie cutters, foam stamps, shells, mittens, etc. See below.
tarp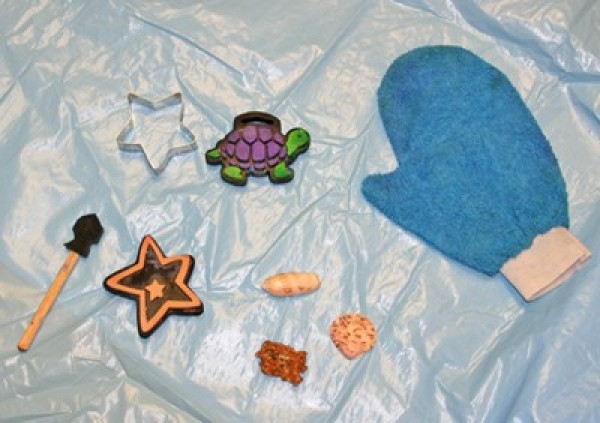 Instructions:
This is best done outdoors. Either way, spread a big tarp and give each child a piece of newsprint. Put his or her name on it with a marker.
Allow them to have at it, making the various creatures described below. When dry, hang it inside, and attach artwork to it to dry, as desired. Or you could just lay the newsprint on the floor and lay the artwork on it do dry.
Fish:
Using a small foam brush that you can find anywhere paint is sold, cut to resemble a fish, as shown.
Holding the brush flat against the paper, have the kids stamp on a fish of one color and while still drying turn the brush over and stamp another color over it.
Whale:
Using a child's mitten or cleaning mitt as shown, paint the mitt blue and press on paper. Add details with a dark blue maker.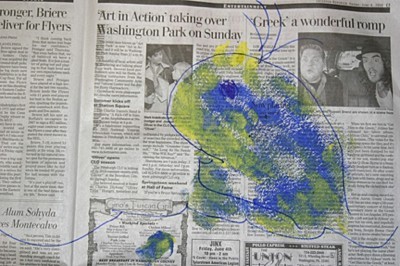 Star Fish:
Use star cookie cutter dipped in coral paint. Fill in with small brush.
Scallop:
Paint a ridged shell and press on paper. Draw scallop shape around it. Experiment with other shells, coral, etc. to help the kids understand about texture.
Turtle:
Paint the stamp and press down on paper.
As an activity, talk about why recycling newspapers this way is a good thing.
By Cindy from Waynesburg, PA
Editor's Note: Cindy has submitted a number of Vacation Bible School crafts with a sea theme. Here is the link: