This is a great time of the year to get organized and many people have boxes of photographs, keepsakes and other memorabilia that they will get to "someday". Here are tips and tricks for saving time and money on scrapbooking. Post your own advice here.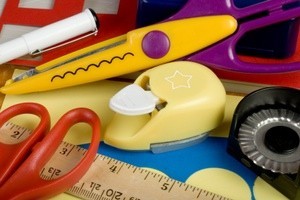 Harvest Trinkets from Clothing
Save any little trinkets such as leftover ribbon pieces and extra buttons. My toddler daughter's clothes usually end up getting stained and ripped from playing so before I throw them away I strip them of rhinestones, patches, and cute detailing.
By Roxanne
Use Scraps from Photos
I keep all the photos that are scenery or the parts of photos that we cut away, and use a punch, maple leaf, heart, circle, etc. and make these shapes and use them to fill in and decorate blank areas. I also use the heart and circle to punch out faces and make pages of just faces.
By Dolly
Only Buy What You Need
When you first get started scrapbooking, the array of products that are available is dizzying. It seems like you need special cutters, fancy paper packs, and other doodads. I bought a scrapbooking "kit" at JoAnn's to get me started and nearly none of it was to my taste or style so I wound up not using most of it. Go slow and use what you already have on hand.
If you have friends who are also scrapbooking, consider having a scrapbook party. That way you can see what other people are doing for ideas and share equipment. That way you can pick the things that are really going to help you and leave the rest at the store.
By Jess
Frugal Tips For Scrapbooking
First of all, I purchase any newer supplies (including scrapbooks!) at the local Dollar Tree. I just purchased three, beautiful scrapbooks (one teal, one purple, and one pink. All have a handmade paper border down one side, a beautiful background of light-colored leaves and beautiful, and gauzy ribbon tied on the book's spine!).
Believe it or not, though, most of the supplies I use are completely free! I run a freebie group (this is my second) on YahooGroups and so, my "job" is to find freebies. I will just give an example of the items (brand-new!) that can be had for free: stickers, adhesive, pens, pencils, markers, crayons, many kinds of papers, envelopes, books, magazines, many types of material, yarn, etc. All of these items, I've received.
If you buy new, there's no reason to shop anywhere other than Dollar stores, yard sales and reasonably-priced thrift stores. Don't forget friends and family, too! Ask around. You may be surprised at what you find!
By Heather21230
Check Your Local Thrift Store
I am the supervisor for a thrift store and recycle center for my county's shelter workshop. We get tons of paper in each week for recycling, and often I will see picture books come through that are beyond resale quality, so I set them aside and strip the pages, going through to see if any of them can be used in my scrapbooking projects. We get greeting cards, magazines, puzzles, books, stickers, all kinds of stuff.
What I can't use may be good for another person, so I have taken to making "scrap bags". The ziplock baggies filled with usable materials sell for $2.00 and help to support my limited abilities employees in their effort to have jobs. My best find was a set of wallpaper display/sample books. They are turning out to be great resources. I wonder if the store would save the next round back for me?
My tip for storage? I found one day at a yard sale, a set of three beautiful "nesting boxes". They are woven to look like square baskets. Once I fill them with my pics, and materials, I can stack them in the living room, in plain sight and they add a nice look to my room. No one can see my brainstorms, and I know just where I left it and can access it quickly.
By Dedeswrkshop
Try Heritage Makers Software
I used to save greeting cards I received, gift bags, etc. to reuse as pieces for embellishments. I did that for my oldest son's life book. Then I made my second son's life book digitally with Heritage Makers and got entirely hooked. It was much cheaper and I like the hardcover product. Plus it's so easy to just start the computer and not have to haul out all the stuff.
I take pictures of fabrics or items that I then upload to use as embellishments in the books I make for the boys. Plus HM, like many other companies, has programs where you can sell some product to earn free stuff for yourself. So now I support my scrapping addiction at 0 cost.
By Emily
Feel free to post your ideas below!