June 4, 2008
0

found this helpful
Try playing with the cat by reaching into the condo from the upper level of it, dangling something that he/she cannot resist playing with like a string of yarn, or catnip, to get him/her to jump up to it. This may interest him/her into exploring the upper levels.
However, we have a cat in our family that never plays with any cat toys bought for her, but she likes to play with rubber bands and aluminum foil of all things, she doesn't sleep in her cat bed, she wants to sleep in a real bed w/one of us, lol.
Cats are funny like that, its almost like they don't want us to treat them like cats (ha,ha) and they're alot like people in many ways. Hope this works for you.

June 4, 2008
0

found this helpful
Whenever one of my kitties loses interest in a particular item (which rarely happens!), I sprinkle some catnip, and let its magic do the work.
In your case, I would add catnip only to the condo, maybe in an area (corner) that would coax your kitty to get his/her full body in there and not just sniff and go.
By DEBRADJ. (Guest Post)
June 4, 2008
0

found this helpful
Try cat nip on the various levels.

June 4, 2008
0

found this helpful
Place a [very] little bit of a dry treat on the level above where he will go. If taken , do it again, and then raise the level.

June 5, 2008
0

found this helpful
Maybe put a very very soft cushions or bunched up fabric scraps on and in the condo. They like things that have Paw Appeal, something tactile. Make the cat condo IN TERESTING. Tape 4-5" pieces of twine all around the top level. My six cats are not interested in the cat condo, as well. They like to S T R E T C H out and can't really do this on a cat condo.
If your top level is circular, consider adding a cushion-y platform on top, instead. Also, try placing the condo under a window, so they can look out the window from the condo. Your son's cat may not like the "new" smell of the condo. The condo is just plain uninteresting to any of the cat's senses.

July 5, 2008
0

found this helpful
Maybe he just doesn't like the upper level of the condo. :-)
Seriously, as long as he's not doing damage while climbing in other places, it's best just to let Kitty do what he wants.
As long as he's using the bottom part of it, at least you didn't waste your money on the condo. Trying to make a cat like something he doesn't is pretty much impossible.
By Holly (Guest Post)
December 1, 2008
0

found this helpful
Sometimes they don't like the top levels because the condo isn't sturdy enough for your cat to feel secure.

Cricket
Bronze Post Medal for All Time! 205 Posts
June 25, 2009
0

found this helpful
I built this (I call it the Cat Tower) myself. I used 1x2's and plywood. I padded the bottom 2 shelves then covered them with an old sheet. The 4 corner legs I covered with hemp rope to create scratching posts. The 2 bracing legs I covered with carpet squares, which I also used on top. Every cat I've ever had has loved this.
I put their food and water on top (since I also have dogs, this keeps the dogs our of their food). The whole thing cost me less than $35 to build and has been well worth it for every cat I've had since then. (I don't have one now so it's being used for storage).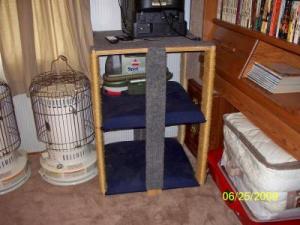 March 13, 2012
0

found this helpful
I have found that if you use catnip spray on anything you would like them to use they will. We have 12 cats, our 13th passed a few weeks ago. The cat nip spray seems to have a smell that attracts them better than regular cat nip. Anytime they seem to lose interest I give it another spray and within minutes they are back on it climbing to the top which is only a couple of feet from the ceiling.
The spray also works if you want them to use a cat bed. If reg catnip did not work try the spray, it is inexpensive and lasts a long time.