By guest (Guest Post)
November 26, 2008
0

found this helpful
Bloat is NOT caused by any type of food. It is a condition that involves the swelling of the stomach. According to my vet it is caused by eating too fast, too much, or a combination of both. I have a bloodhound who we had to get a special bowl because she would eat her food in a few seconds, then throw up. One time she didn't throw up and she got bloat so we had to take her to the vet. This is not her fault, it was not caused by the brand of food. The only thing to do is console her and inform her that she DID NOT kill her baby.
November 26, 2008
0

found this helpful
Let her grieve and be angry or sad as she needs.
November 26, 2008
0

found this helpful
I am very sorry to hear about her loss.
Did changing the type of dog food kill the dog - no. However, the way she changed the food could have been a contributing factor IF the dog already had a genetic predisposition to bloat. Food changes for certain breeds should be done gradually; not suddenly and certain ingrediants should be avoided for these breeds. See "Prevention" in the link below.
Here is a link with everything you need to know about dogs and bloating.
http://www.glob … an.net/bloat.htm
This link also lets you know which types of dogs are more prone to bloat, symptoms of bloat (so you can rush the animal to the vet), and steps to prevent bloat from occurring in the first place.
My condolences.
November 26, 2008
0

found this helpful
I,too, just lost my beloved Rottweiller about a month ago from bloat. The vet told us it was from eating too fast and not from food at all. There are certain breeds that are prone to bloat, and was told that sometimes you can catch the symptoms before they're really bad. Please don't think it was anything you did!!
By guest (Guest Post)
November 26, 2008
0

found this helpful
So sorry to hear of your loss. I have a mastiff and they are prone to bloat. My parent's mastiff died from bloat when she was 8. If large breed dogs eat a lot of food and then drink a lot of water, it can cause bloat. The type of dog food does matter. Dog food that is mainly grain will be more likely to cause bloat. If you feed your dog a brand that is processed w/little grain, that is better for your dog. Grains in the belly just puff up. Plus, it is more healthy for your dog to not eat dog food full of grain.
November 29, 2008
0

found this helpful
First i am so very sorry for your loss.
Losing a beloved pet is right up there with losing a child.
I would like to thank 'speakeasy' for the link to the site about dogs and bloat. It is very informative. I tried sending a note to her but it wouldn't go thru.
We have goats we have lost to bloat so we are trying to learn as much as possible to prevent anymore deaths. We saved one young nanny recently.
We have a 4 yr old dog, a Lab, 'Leroy' who has a bad rash that our vet thinks is an allergy so she put him on predisone. It makes him bloat very badly and pass horrible smelling gas. I took him off of it and he's gotten much better, except for the mystery rash. i had no idea dogs can die from the bloat.
I would die if Leroy died from something i could have prevented if i'd only known how.
'Speakeasy', you not only may have saved his life but my own also!
Thank you for the link.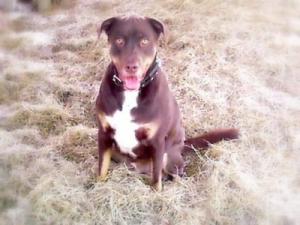 By guest (Guest Post)
December 30, 2008
0

found this helpful
I know how much it hurts to lose your baby. I lost my beloved SPCA rescue after 18 wonderful yrs. together. My heart truly goes out to you.
I'm not so sure if changing a food could KILL a dog, but as my veterinarian once told me is (for your, hopefully, NEW, future baby) is that it is BEST if you do it slowly. Mix in a little of your NEW food in with mostly the old, etc., progressively.
I now have a 14 year beagle that is hypothyroid and looks like she is pregnant. She is not "bloated" per se' she is sick. There may have been some underlying cause to your loves death. PLEASE. DO NOT blame yourself. Once you grieve, and eventually remember the joy your baby brought into your life, get a rescue who will always love you (I always do rescues:)
If you EVER get concerned, take the dog to a vet. If can't afford to "pay at the time of services" apply for a CARE CREDIT card that most vets will take.(THAT one is MY biggest bill:)
God Bless You and give you strength to deal with your loss.
Again, don't blame yourself.There MAY have been other health issues you did NOT know about (Like a bowel obstruction). I happen to be a nurse,too.
Your dog knows you love her/him, and I know this. ALL dogs go to heaven!
With my best regards, Lorraine