August 13, 2009
0

found this helpful
Best Answer
Make a batch of pizza dough or purchase Rhodes bread dough. Roll out circles of dough any size you want. Place your favorite filling in the center. Fold dough in half and pinch to seal the sides. Deep Fry at 370 degrees until brown.
Freeze for later use or serve hot.
If freezing, freeze on a cookie sheet first so they don't stick to eachother.
Anyone in the family can take one out of the freezer and microwave the same as the name brand.

OliveOyl
Bronze Feedback Medal for All Time! 138 Feedbacks
August 14, 2009
0

found this helpful
Best Answer
I have used the refrigerated biscuits for this. Just roll each one out. The larger ones are better (Pillsbury Grands) since the standard ones are small. Bake them in the oven till brown. Scrambled eggs and cheese make a good breakfast filling.
For other meals, your imagination is the limit. We like Italian style ones - cooked ground beef and spaghetti sauce sprinkled with mozzarella cheese. Leftover meat mixed with BBQ sauce is good too.

August 14, 2009
0

found this helpful
Best Answer
This is a family favorite of ours.
Grilled, plain, chicken strips
Eight, flaky-layered Grands, refrigerated biscuits
1 family sized can of cream of chicken soup
shredded cheddar cheese
I cut the chicken strips into bite sized pieces with a pizza cutter.
Pat out biscuits into circles large enough to hold chicken bits and cheese, but thick enough not to tear.
Add chicken and some cheese. fold into half circles and press edges together. Curve into crescents to fit in glass pan. At the same time have soup with a half of can of milk and cheese to taste simmering. Cheese will thicken soup.
When pockets are formed and shaped, cover with soup. Can sprinkle with paprika and/or parsley. Salt and pepper to taste.
Bake at 350 degrees F. until golden brown. About 30 minutes.
The pockets are not soggy. We use Cheddar and Mozzarella cheese and have used cream of mushroom and cream of celery soup. We have also used ham and cheese without soup. This is a recipe that you can really tinker with.

August 17, 2009
0

found this helpful
Best Answer
When I'm in one of my 'lazy moods' and I don't particularly want to mix up the pizza or bread dough for 'hot pockets' or calzones, I'll separate a roll of crescent rolls, roll each out as evenly on each side as I can. Then I put whatever filling I want on one side (either breakfast foods, lunch or dinner foods), making sure not to get too close to the edges.
Wet the edges with your finger dipped in water, fold the dough over the filling matching up the edges. Crimp with a fork and poke a few holes in the top of the dough with the fork or cut a couple of small gashes in it to allow the dough to vent--otherwise the dough will puff up from the steam made by the fillings and you'll have a lot of empty air space inside your pocket.
If you want, you can brush with a flavored butter (butter, Italian seasoning & garlic is good for an Italian-style pocket. Sprinkle with Parmesan when done) before baking. Bake until golden brown.
I have also used the store brand biscuits using the same method. They're smaller but equally good. My favorites are scrambled eggs with bacon and cheese for breakfast. For lunch, I like ham and American cheese with a little chopped bell pepper or Turkey with Swiss.
Freezing: I am a fan of making ahead and freezing these. Just put them on a cookie sheet without brushing on butter, sprinkling on seasoning or poking vents and stick in the freezer until frozen solid. Wrap each individually 1st in waxed paper and then in plastic wrap. Label & date.
I keep small things like this in small plastic baskets in the freezer. Saves time and energy for me. Simply unwrap, thaw (can thaw on defrost in microwave), put in a vent, brush or sprinkle with seasoning if wanted and bake in a toaster oven or your regular oven until golden brown.
Best Answer
I don't have a question I have a recipe to share. I like recipes that are done from scratch like this one.
How to make Homemade Hot Pockets:
Start with the basic one-loaf Grandmother Bread recipe adjusted with add-ins of milk, egg, and oil.
1 1/2 cups warm milk
1 teaspoon yeast
2 tablespoons sugar
1/2 teaspoon salt
1/3 cup vegetable oil
1 egg
4 cups all-purpose flour
In a large bowl, combine warm milk with yeast and sugar. Let sit for five minutes. Add salt, vegetable oil, and egg. Stir in flour until the dough is stiff enough to knead. (Add flour a little at a time. Four cups flour is approximate; exact amount may vary.) Knead dough until smooth and elastic a few minutes. Place dough in a greased bowl; cover. Let rise until doubled.
Now it's time to make hot pockets! Make any kind of hot pockets you want. Use any kind of 'wet' ingredient you want; horseradish, salad dressing, herbed tomato sauce, etc, with any kind of sliced or shredded meat (this makes a really tasty use for leftover meat), plus any kind of shredded cheese.
Punch down dough and divide in two. Roll each half into an approximately 8 x 12 inch rectangle.
Using a pizza cutter, slice each rectangle into six parts. Place condiment, meat, and cheese on each part and pull dough around to seal. (I used horseradish, beef, and Swiss here.) It looks a little messy. But that's okay! Turn it over and it looks neat as a pin.
Bake at 350-degrees for about 25 minutes, or until browned. (Keep an eye on 'em.) Cool on wire racks.
Try anything! Ham and Swiss! Bacon and cheddar! Roast beef and provolone! Chicken and ranch. Add sauteed vegetables, or use vegetables alone for a vegetarian hot pocket.
Devoir immediately, store in the fridge for a few days, or place in the freezer to grab whenever you need one. Reheat in the micro wave for a minute.
They're so good.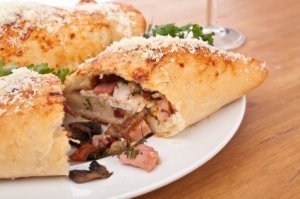 Marjorie
Silver Feedback Medal for All Time! 290 Feedbacks
August 13, 2009
0

found this helpful
Try the search on: http://www.recipezaar.com

August 14, 2009
0

found this helpful
What I do is toast a piece of bread (thicker bread works best), then scramble one egg (you can cut up a breakfast sausage in it), then slice the bread through one of the sides to make a 'pocket', shove the egg mixture into it. My daughter loves this. She would take it 'to go' onto the school bus, hot and delicious.