By jeanie (Guest Post)
October 25, 2007
0

found this helpful
Clumping litter may be harmful to kitty because of it's clumping. What does it do when kitty licks and chews it off of her paws and swallows it? I'm a bit afraid. I use the plain cheap clay kind and only put an inch or two in a round covered litter box, scoop often any messes into grocery bag and completely change all of the litter every other day. Wipe tray clean with paper towel and throw out the bag. Nothing to keep, nothing to smell, tidy is as tidy does. Muffie agrees!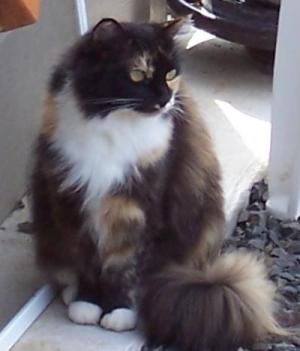 October 25, 2007
0

found this helpful
What an AWESOME idea! I have been looking for an idea just like that...thank you for sharing!
God bless!
Sheila in Titusville, FL
By Barbara Jean (Guest Post)
October 25, 2007
0

found this helpful
Thank you, thank you. That is such an excellent idea!
I have an older cat who has been an outdoor cat all his life and is now an indoor cat. He's adjusting very well, but is incredibly obsessive compulsive about his litter box!
I have to clean it out many times a day, both wet and solid stuff or he just plain won't use it. If I'm gone all day, he waits for me to clean it before he'll use it.
I was using a seperate plastic bag for each cleanout, so I was running through my entire supply of recycled bags, and starting on my parents' and friends' supplies.
So, thanks a lot. You've saved my sanity, and now I don't have to go out and buy a ton of small garbage bags!
Barabara Jean
By Barbara Jean (Guest Post)
October 25, 2007
0

found this helpful
Yes, you're right about the clumping litter. My older cat has chronic kidney failure, which leaves him somewhat malnourished. Some malnourished cats, and probably other cats who aren't malnourished will lick and eat the litter.
It can cause quite serious constipation, as it did in my cat, because the litter clumps inside the cat's gut. This is not good.
It's a real shame, because the clumping stuff is infinitely easier to use, but if you have a cat who licks it, it's just not worth taking a chance.
Barbara Jean

October 25, 2007
0

found this helpful
I keep the litter box in the bathroom and when I need to get rid of the big stuff I just scoop it out and flush it down the toilet. I am on septic system and have it flushed every few years and have not noticed any problems. Probably not a good idea if you are on city sewer.
By Wookawgirl (Guest Post)
October 26, 2007
0

found this helpful
I bought my litter on sale on day in the large plastic container with a lid. It took a little while to use it but, when it was empty, I use recycled grocery bags as liners and keep the lid on.
When the bag is full, I tie it up and put it in the trash.

October 26, 2007
0

found this helpful
I bought a large plastic container of clumping litter when it was on sale. It comes with a lid to seal the moisture out as you use the litter. It took a while to use the litter, but when it was empty, I use recycled plastic grocery bags as liners and when the bag is full, I tie it up and put in the trash. The lid keeps the moisture out and the odor in!!!
I bought a second one, and refill it with cheaper litter, again the lid keeps the litter fresh and moisturer free!!!
By Cat Owner (Guest Post)
October 14, 2008
0

found this helpful
Regarding the post-er who was worried about clumping litter: let me assure you it IS SAFE. First, let me say I have read the stories on the internet of cats digesting the clay by cleaning themselves, and then it expanded in their intestines and killed them. Sounds possible.
Fortunately, there is not a single legitimate case of this happening (outside the internet). Call any veterinarian, and he (or she) will tell you he has never seen a case of a cat dying or getting sick from clumping litter. There is no warning on any legitimate website (Humane Society, ASPCA, etc.) -- despite the millions of cats using clumping litter.
In case you are wondering, I do not sell nor work for any litter company. I just wanted to be extra sure that my cat was safe, so I did the research.

Cricket
Bronze Post Medal for All Time! 205 Posts
November 17, 2010
0

found this helpful
I don't do this at all. I keep my litter box in the laundry room. I also keep a small trash can next to the dryer to put lint and any other trash into. When I scoop the cat box every morning I scoop it into the trash bag, then tie it up and out it goes. I'm not wasting a trash bag this way, since it's gotten other trash in it throughout the day. I'm not "collecting" it for several days either, the idea of which just turns my nose. I keep a fairly rough welcome mat under the cat box to catch anything clinging to his feet. I also keep a small hand vac next to the cat box and vac the mat and floor around it when I finish scooping,
By the way, Pankitty is absolutely right about clumping litter being safe. I have used it ever since it first came out and have never had a problem with my cats getting sick, and have also talked to vets and never had one say he/she'd seen a problem. There are any number of wild things that come across the internet, and for the most part are all crap. Before believing them, you have to use your head and do the research. More times than not you'll find it's just somebody who made it up.
As for the lady who posted on here that her cat had problems with it, I would venture to say that the cat probably had internal problems from something else, maybe hairballs? Just a guess.

September 24, 2012
0

found this helpful
With 5 cats I started using cedar shavings for litter. It is absorbent, has little tracking, cost efficient, at $8.00 a large 2 cubic foot bag, which lasts three weeks. It also helps with one of my cats allergies. I buy a large Rubbermaid container and cut the side down for a litter box. The larger box is easy to step into and keeps down the tracking. It accommodates my Main Coon cat and works great for me. I clean it out each day but change it only every third to fourth day.