Shelby is 1 1/2 years old and is an American Shorthair mix. I like to joke that I got Shelby at Wal-Mart because a friend of mine found him trotting through the parking lot there at about 6 weeks old and brought him home to me! I'd wanted a kitten for a while and we immediately became good buddies through bouts of fleas, ear mites, and gastroenteritis! I've had him since November 2006, and he really is a sweet, smart boy.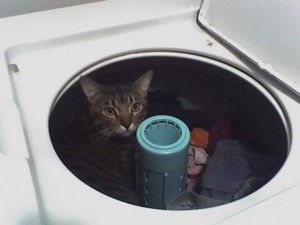 Shelby is an adventuresome boy (here's a picture of him exploring our washing machine) and likes meeting new people, who are thoroughly sniffed. He chases laser pointers and flashlight beams, and watches the world from his cat tower. When he's in lazy mode, he loves to sprawl out in the sunshine in our dining room. My other cat, Nimbus, is his best friend, and they nap, groom, and play together.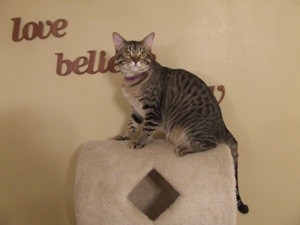 Shelby is very smart and knows the meaning of several words: treat, food, Mama, and clippers (I don't declaw and he dreads having his toenails trimmed sometimes!).
Also, I'm not sure if it's because Shelby was so small when I got him or not, but when he is in his "comfort zone" (usually on my lap) he likes to suck the fur on his belly like he's nursing again. People never believe this until they see it!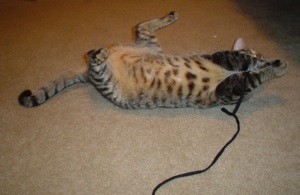 He always checks on me when I'm home sick and keeps me company on the bed, and no bug is safe in our home with fearless Shelby on the prowl to meow and "purrrum" until we take care of the insect he's found! We love him very much and he's like a child to me.
By Melody from El Dorado, AR