This can be made for any holiday just by changing fabric, so it's really universal. It's great for using up scraps, too. It's basically strips of fabric that is braided and shaped into a heart.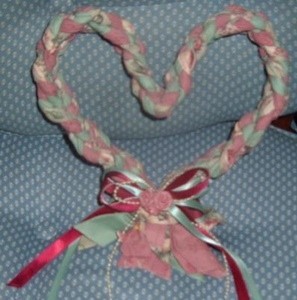 Approximate Time: 1-2 hours
Supplies:
3 strips of fabric 12 to 16 inches long and 3 inches wide
hot and low temp glue gun
ribbon of your choice
fake flowers, buttons, embellishments of your choice
bulldog clip or rubber band.
needle and thread to match colors
Depending on your choice of fabrics, you can use cotton, a blend or a synthetic. If you want something thicker, a nice polyester works well.
Instructions:
Fold all three strips in third lengthwise. You can press if you want, or just "roll" them into submission!
You can whip stitch them closed, or cool temp glue them, but leave a couple of inches on the end "free" so they flair. Most of the time, however, they stay in place till the project is done.
Then, bind one end with a bulldog clip or rubber band. Braid all three like you would hair.
When you have the strips braided, measure the middle, and fold it at that point. You can sew or glue just enough of the fold to keep it as the center of the heart.
Once it is cool you simply bring each end down and secure with a rubber band or some hot glue and a ribbon. Then, you can add flowers, buttons, more ribbon, pearl strings, or any other embellishment of your choice.
You can give these, keep them for yourself, or make them to sell. The size can be adjusted for something as large as a door decoration, or as small as a pin for a lapel, backing with fabric or felt so the pin back won't show.
You can make them for St. Patty's Day, Easter, and all the other cool decorations. Just because it's the shape of a heart doesn't mean it's just for Valentines Day!
Note: I like hearts that are not so pronounced as this one is. In other words, I now make them with just a hint of a center, or sometimes make the center at the 45% point (just off center) so that each side is just a bit different in size. The country hearts are that way, and I love the "more natural" shape. It is completely up to you!
By Sandra from Salem OR