Robyn Fed
Silver Post Medal for All Time! 398 Posts
November 5, 2010
4

found this helpful
Best Answer - Chosen by Voters
It's important to remember that permanent inks and markers represent some of the most difficult stains to remove.
If a permanent ink stain happens on a fabric or pattern that cannot be bleached, it will be difficult to impossible to remove. You can try and you might get lucky, but don't hold you're breath for too long.
The first solution to try is rubbing alcohol. Place the clothing on top of a clean white towel. Be sure to test in a hidden spot before applying rubbing alcohol to the permanent ink stain. Blot rubbing alcohol onto the stain. The towel underneath will become wet and discolored from the ink. Be sure to move the garment to a clean dry section of the towel as this happens. Continue until no more ink stain can be removed. Make sure you rinse the stained area completely free of the rubbing alcohol.
Next try fingernail polish remover. Blot in the same way as you did with the rubbing alcohol, moving the stained area to a clean dry section of a towel as the ink stain is removed. Rinse thoroughly.
As a last resort, you can try acetone, although this doesn't do well with a lot of fabric types and cannot be used on acetate and rayon fabrics. Test first in a hidden spot. Apply the acetone in the same way as the rubbing alcohol and fingernail polish remover. Remember to rinse thoroughly.
Next, try rubbing baking soda mixed with water into the ink stain. Rinse thoroughly. Apply a stain stick, gel, or spray to the ink stain and wash according to the fabric directions. If the ink stain still remains after washing, try repeating the baking soda step again before rewashing and drying.
from
housekeeping.about.com

November 5, 2010
0

found this helpful
Permanent marker doesn't come out of unbleachable cloth. Most times it doesn't come out of bleachable cloth either. You are really just S.O.L. here. Are the spots in a place that you can put a throw blanket on top to add character or maybe cover up with a pillow?
How about folding the comforter over after making the bed at the top by the pillows to hide the spots?

November 5, 2010
1

found this helpful
Google "Stains R Out" it takes out every stain I have tried it on! including sharpie, blood, spaghetti sauce etc., I now order it a dozen bottles at a time, my carpets & rugs are always looking their best now, & unlike reg' carpet cleaners , those ugly little spots no longer re appear! I just use it on the spots not the whole carpet, that would be too expensive.

November 5, 2010
1

found this helpful
Can't add anything to all the good advice you're getting re the stain, except maybe get your boyfriend to buy you a new comforter. ;-)

Elaine
Bronze Post Medal for All Time! 172 Posts
November 6, 2010
0

found this helpful
CakeDec, can you buy that stain remover in any retail store? I just hate paying postage for anything.

January 26, 2021
0

found this helpful
you can by a great stain remover called "shout" literaly anywhere but you have to put it on the stain before it gets washed and dryed then you wash and dry.
ps. if its sharpie u have to souk it.

Lilac
Silver Feedback Medal for All Time! 450 Feedbacks
November 6, 2010
0

found this helpful
I have heard that alcohol or hair spray will take olut sharpy stain but haven't tried it myself.

November 6, 2010
0

found this helpful
You're gonna wear the comforter out trying to get the stain out. Either live with it or make him buy you a replacement.

pam munro
Gold Post Medal for All Time! 519 Posts
November 6, 2010
0

found this helpful
This kind of ink is permanent. Perhaps you could put a teeny patch on the stains, lacy? Part of a doily? & you could even make that part of the whole pattern & do it all over the comforter & personalize it.
Sometimes the way to deal with stains is to disguise them. You could even use iron on patching?

November 7, 2010
0

found this helpful
I have had good luck using hand sanitizer to remove paint stains from clothing (fabric) without damage to the fabric. I saturate the stain and rub it together, or with a clean rag repeat applications until it is clear of the color and wash as usual. I would try a hidden spot to be sure of color fastness in the comforter first. I hope this helps you!

December 17, 2018
0

found this helpful
The hand sanitizer worked woohoo. I got sharpie on one of my favorite comforters! It is a colored fabric and the hand sanitizer worked!!!!

April 5, 2020
0

found this helpful
The hand sanitizer did smear a little at first but it really did work!!:) Thank you so much!!!:) :)

November 7, 2010
0

found this helpful
I work at a Christmas kiosk in the mall and we personalize ornaments using Sharpies. To remove the ink we use a small bottle of Enamel Thinner; it has to be the small glass bottle, not the larger one. Go to a craft shop to buy it. It works on hard surfaces for sure. You can give it a try on a small spot on the fabric. You have nothing to lose.

August 8, 2015
1

found this helpful
Though this post is old, for anyone new checking this out I'd like to show people the results I had by using alcohol and nail polish remover. Though I don't have a before picture, there was a huge Pink blot of marker in my comforter and even if this doesn't look good as new it still got most of the marker out and is no longer the center of attention. I would recommend using rubbing alcohol and nail polish remover to get a marker stain out. Be sure to dab and NOT SCRUB.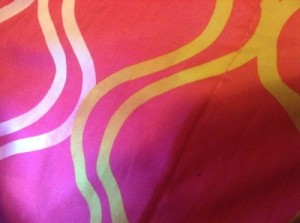 January 7, 2016
0

found this helpful
Grab some hair spray... Dab the hell out of the stain... Get a paper towel...And you BLOT that shit!!. Repeat 4-7 times!! This trick will work. No joke! 100% guaranteed..

January 1, 2019
0

found this helpful
If it is just a sharpie highlighter I wouldn't worry because the ink comes out so easily. All you need is just a rag and some dish cleaner or any kind of soap. put another cloth under so it doesn't bleed through.