May 12, 2010
0

found this helpful
Would you mind posting a picture of the plant? Doesn't sound like a dandelion, but some other plant species. Only place I can remotely imagine a dandelion growing that tall would be in the rain forest regions and nobody has ever shown one that large.
August 5, 2018
0

found this helpful
Ive noticed the same thing here in VT all of the sudden they are almost 6 foot tall ones
I submitted a picture with my original post and was surprised when it wasn't displayed.
Here is a picture. I'm just under six feet tall and I am looking up to see the top of the plant (see the white door just behind it?).
It is clearly a dandelion. The stems are thicker than my finger. I am afraid it is going to try to eat the house!
Later, I will post a close-up picture of the yellow flowers and the white fluffy ones when they go to seed. Ironically, they are slightly smaller than the normal dandelion flowers. It sounds like I need to call my local agricultural experts.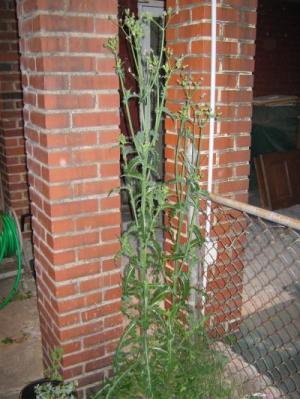 May 16, 2010
0

found this helpful
Not a dandelion. Flowers grow close to ground and are large, round and yellow, and have white puffy seed heads after blooming. The stem is hollow and could never stand upright if that tall.
This is considered a weed in my area. A fancy term is wild flower. I will try and see if I can locate the name of this plant life.

May 18, 2010
1

found this helpful
I am from Minnesota and we call it a sow thistle. If it is a thistle, it should have stickers on it and you would have to wear gloves to dispose of it.

April 18, 2019
0

found this helpful
This is DEFINITELY SOW THISTLE!
Thanks so much for identifying it! I have been looking for this plant but thought it was called "Texas Dandelion" as that is what we bought the seeds as over 10 years ago and we need some new seeds. NOW I know what I am looking for! These are EDIBLE!!! We use them for our Muscovy Ducks!!
You can find sellers of the seeds on Amazon, Ebay and Etsy.

October 7, 2020
0

found this helpful
Not sow thistle, it has a smooth stem

Marg
Gold Feedback Medal for All Time! 520 Feedbacks
May 19, 2010
0

found this helpful
Looks and sounds like Cat's-ear to me, or Hawk's-beard, but I've NEVER seen them that tall! Try looking up Hypochoeris radicata and Crepis biennis perhaps you have a giant version!
Marg from England

May 20, 2010
5

found this helpful
It looks like prickly lettuce very hard to get rid of. I wouldn't let it go to seed as
you will have it all over and will never get rid of it.

May 20, 2010
0

found this helpful
Cresses is the wild plant's name....growing all over pastures in OH right now. Has small multi yellow blossoms

June 21, 2017
1

found this helpful
Prickly lettuce, aka milk thistle. It has been very aggressive in the US these past couple of years.

August 22, 2019
4

found this helpful
Prickly lettuce is able to destroy the opioid crisis in the US atm. Look up how to turn it in to a salve. We could take down the pharma industry if we took back the power of weeds to heal us.
Good luck America.

October 9, 2017
0

found this helpful
Looks like hawkweed to me.

September 19, 2019
0

found this helpful
It is False Dandelion also know as Spotted Catsear.