There's been a lot of discussion recently on many of the scrapbook boards about using Goo Gone or baby oil along with blending stumps to color stamped images for scrapbooking and card making. Many people use the Prismacolor colored pencils to do their coloring with. Some also use Koh-I-Noor color pencils, of which I own a few.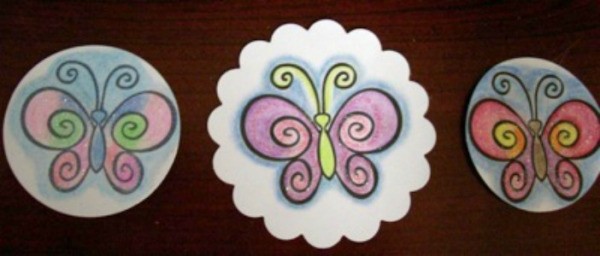 Today I experimented with my Crayola pencils, Rose Art pencils, and Crayola crayons. The Crayola actually worked reasonably well. While the Goo Gone did not spread the color of the RoseArt and other budget friendly pencils, it did soften their look greatly. So instead of just applying the color pencil to the edges of the stamp image and blending inward to stretch the color, I went ahead and colored the stamped image entirely then went over it with the Goo Gone and blending stump.
It softened the color and smoothed out any pencil lines. It is a different look than with the softer Prismacolors, etc., but it still made a nice improvement. I also did the same with the Crayola crayons and was pleased with the smoothness created with the Goo Gone, also.
To use Goo Gone with blending stumps, pour a very tiny amount of the Goo Gone into a jar or container with air-tight, spill-proof lid. I used a small sponge to set inside the jar to hold the Goo Gone, and the sponge keeps you from getting too much on your blending stump. Color your stamped image. Then dip your blending stump tip into the Goo Gone, just barely wetting the tip. Then in circular motions, go over the color from your pencil to smooth it out. While the idea of the Goo Gone is not new; I have not seen anyone post about using crayons, so I thought I would share it.
In the photo, the image on the left was made using regular Crayola crayons. The images in the center were made using Koh-I-Noor pencils. I added a little glitter using a quick glue pen to brighten it up a little. Some people prefer to use baby oil rather than Goo Gone, as it is safer and less odorous. Be sure to put the lid cover back onto your container of Goo Gone or baby oil and store in a safe place, away from children and pets.
By Chris from USA