This is Ella, our 6.5 year old Rottweiler. She was separated from her "older brother/companion" Sam when she was only 2 years old. (Get the play-on-names? Sam 'n Ella...like salmonella.) Anyways, she took his loss hard, as did we.
So we bought a new pup to occupy her, a yellow lab we named Bailey. Even though Ella is spayed, Bailey tried to nurse on her the day we brought him home! She was like, "what's going on here?! Still, she took it in stride and I think the distraction of a new "pet/pup project" helped get her over her grieving (I know it helped us).
She has been a formidable big sister/mother substitute/role model for Bailey (as you can attest by the scars on his snout.) As any stong woman will do, she has taught him his place. and now peace rules in this puppy kingdom.
They are known to occasionally play when no one is looking (play is not cool enough for Ella; when in fact she could "rip him a new one" in a heart beat if she wanted to.) She never is violent with him (just teaching lessons in dog-manners) and reminding him of his "place" when he gets "too big for his britches". She is a good mama substitute/big-sis.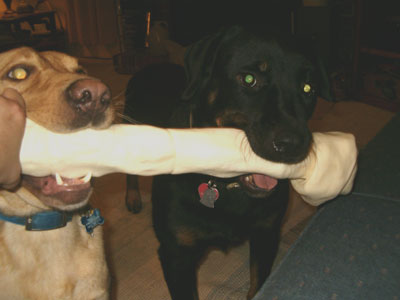 By debbie
Bailey has some other pictures here:
http://www.thriftyfun.com/tf521715.tip.html
http://www.thriftyfun.com/tf813427.tip.html