Sunshine and Blue Moon are 2 year old parakeets. I was wishing for a happy noise while working in the kitchen. So, I found my yellow parakeet calling her Sunshine. When she left her nest, another bird seemed so unhappy. Blue Moon was her boyfriend, it was just too obvious.
They are just too cute and play together all day. These two parakeets, are just so in love. They kiss and preen each other all day. Sunshine is the quiet one. Blue Moon makes up for it with all his chirping and loud song; he serenades our kitchen all day long. In this photo, Blue Moon and Sunshine are traveling with us to go on our vacation.
Also in the back seat was our Shih-tzu, Zinnia. She has no interest in them. So 2 birds, a dog, and 2 adults all on a journey together.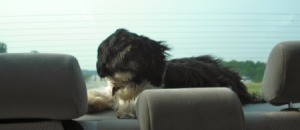 By Sandra Bridgeman from Montvale, NJ